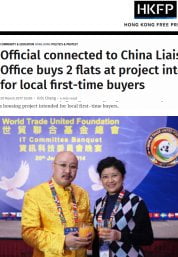 People bought multiple units at the token 'Hong Kong Property for Hong Kong People' housing development at Kai Tak (including an official at China's local Liaison Office). This makes a mockery of the supposed intention of the project – but so do the high prices, anyway. A modest amount of mouth-frothing ensues.
In beautiful downtown exotic Tsuen Wan, a developer is offering new (well, half-built) one-bedroom apartments for HK$10 million each. A real-estate agent, who has an interest in selling the things, estimates a rental yield of 2.2-2.4% (half the dividend yield of, say, HSBC shares). Down in Sham Shui Po, a family of three paid HK$200 million for nine apartments at another new development. At least, this is what the developers want us to believe – they are not above exaggerating sales volume, demand and prices, even by arranging fictitious transactions.
Over in sunny Soho, just up the hill from the Central Business District on Hong Kong Island, the tables are turned.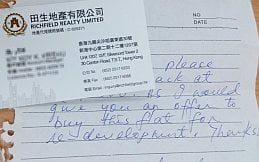 Here is the story so far. Late last year, I moved out of my aging, crumbling tong lau home of 25 years and rented a place nearby. The plan was to sell to an end-user or landlord – 'rare' old places next to the Mid-Levels Escalator are in demand. And then an assertive lady from Richfield, the (allegedly) disreputable buyers of slums for redevelopment, knocked on the door, airily offering HK$21,000 a square foot. This is a good 25% more than the going rate for these places. I said I would think about it.
As promised, the Richfield floozy got back in touch after Chinese New Year, mentioned her earlier offer (now mysteriously trimmed to HK$20,000) and asked me eagerly for my 'counter-offer'. I took this as an invitation to up the price. After making her sweat for a few days, I put on my best casual 'take it or leave it' voice and told her I'd accept HK$24,000. Her response was "Wah – you are not greedy!" followed by much moaning about my grasping octogenarian neighbours who (bless them) are demanding HK$30,000 or more.
After consulting with her boss, she came back with an offer of HK$23,999.99 – or something microscopically less than I had asked. Maybe a face-gaining thing, or perhaps that's how she makes her commission. She instantly emailed me a 'provisional agreement for sale and purchase' and badgered me about signing.
Some of us would get tough and insist on another 5% out of these unscrupulous rogues. (It's not the principle – it's the money!) Bearing in mind Carrie Lam's advice to pocket it first, I am happy enough. I would make a terrible real-estate mogul. Mindful of the fact that these people are slime (the paperwork is in the name of a company called 'Jumbo Honest'), I have tossed the whole thing over to my lawyer. He says it all seems OK.
I'll rent for now and hope for a property correction-crash-bloodbath. Still, a quick search shows that the proceeds from the Soho hovel are more than enough to buy a larger, newer place in many decent districts – on the secondary market. That doesn't mean such homes are widely affordable; Richfield's offer is equivalent to eight times what I originally paid for my place in the early 90s, which is probably roughly in line with property-price rises in Hong Kong over that time. But it does suggest that the new projects in Kai Tak, Tsuen Wan, Sham Shui Po, etc are unreal, figuratively or literally.