A suitably weird end to the week comes to us courtesy of Hong Kong's traditional/mainstream pro-democrat politicians. Beijing loyalist Tung Chee-hwa points out that the Chinese Communist Party, not content with rigging the fake Chief Executive election at the nomination and polling stages, also – in its paranoia – reserves the right to throw out the actual result anyway. The pan-dems claim the venerable Crop-Haired One (or the leave-nothing-to-chance process he mentions) is undermining the 'fairness' of the charade…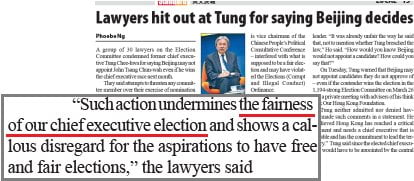 There can be a difference between 'fairness' and some form or other of 'justice'. Few right-thinking people will be able to resist a smirk on reading that frantically desperate Chief-Executive hopeful Regina Ip is painfully coming to terms with the fact that, after all her mega-shoe-shining and groveling, the Communists have no further need of her…

The more you prostrate yourself in fake (or real) adoration of the Communist Party, the more brutal is the inevitable kick in the teeth when it finally comes. Yet every shoe-shiner thinks it will be different in their particular case. It hurts.
An analysis of the rot behind ex-Chief Executive Donald Tsang's conviction comes from Peter Guy. The blurb ponders whether the case is 'a high point in Hong Kong's jurisprudence, or a sign of its inevitable decline'.

Another way of putting the question is to ask whether the Communist Party believes it can maintain control of Hong Kong without a system of cartels and cronyism. Or in the Mainland.
(Just in: another jab at Sir Bow-Tie.)
I declare the weekend open with this – which was sent a few days ago…
The Hon Andrew LEUNG
President of Legco
Breach of Rules of Procedure

Dear Sir,

I trust that you will be taking appropriate action regarding the breach of Rule 41(8) by WONG Kwok-kin in LegCo on 17 February when he raised the conduct of judges, stating:

"In the past, Hongkongers described 'fake foreigners' as people with 'yellow skin but a white heart', but today I have to describe a judge as a 'white skin with yellow heart' – the yellow of a yellow ribbon." 

[While Rule 41 (8) states]

(8) The conduct of Judges or other persons performing judicial functions shall not be raised."

Not only was this statement in breach of Rule 41(8), it was outrageously bigoted, racist and offensive…

I look forward to receiving your positive response.
And the positive response has been…
Thank you for your email below.

The President of the Legislative Council has instructed me to let you know that he has noted your views expressed in the email.

Regards

Dora WAI
(For Clerk to the Legislative Council)
Don't hold your breath for more