Hong Kong weeps and sobs upon reading pleas for leniency on behalf of former Chief Executive Donald Tsang, convicted of misconduct. Who cannot feel tears welling as ex-Justice Secretary Wong Yan-lun submits a 10-page letter to the court, and Chief Executive-in-waiting Carrie Lam ends her appeal with the phrase 'Yours humbly'?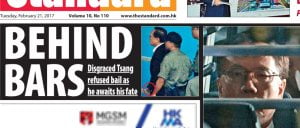 When ex-Chief Secretary Rafael Hui was convicted of bribery and misconduct a few years ago, people wondered how and why a highly paid senior official would succumb to temptation. One theory was that top bureaucrats socialized too readily with our mega-billionaire property tycoons and became mesmerized by the vastly different scale of wealth (private jets, etc) enjoyed by the lucky families who run our real-estate cartel. Moral hazard ensued.
It makes sense. Our officials have limited accountability and great discretionary power involving matters like land use. There are few formal firewalls to keep businessmen and officials apart (top bureaucrats hobnob with plutocrat 'elites' on first-name terms at the Jockey Club as a mark of status). The Chinese Communist Party sees co-opted tycoons as a key part of its local power base. One of Carrie Lam's first tasks on deciding to 'run' in the pseudo-election was to call on the Real Estate Developers Association for a grovel-fest. Tycoons have every incentive to cultivate officials, and the system enables cronyism virtually by default. Rafael and Donald suffered lapses in willpower.
Yesterday, we used the word 'corrupted' to describe the damage Chief Executive CY Leung has done to Hong Kong's public services and sphere. Aloof from Hong Kong's tycoons, his only buddies have been Beijing's Liaison Office and its United Front operations. His achievement has been to turn the police and other public agencies into political weapons in a fight to impose Leninist Mainlandization on the city.
The cries for mercy for Sir Bow-Tie can be seen as a not-so veiled attack on CY – even from Carrie, certainly from fellow-CE-wannabe John Tsang, from rebellious ex-official Anson Chan, from veteran pan-democrats, and perhaps on behalf of everyone except Beijing's devout Communist faithful, who are nowhere to be seen. Jake van der Kamp's column captures the mood: he (obliquely) hints that the prosecution was vindictiveness by Sir Bow-Tie's successor, and concludes with an anecdote testifying to Donald's loyalty to the Hong Kong core values CY is trying to destroy.
Even those of us who are less tolerant of overpaid officials' foibles can sympathize. If Beijing's mission to smother and absorb Hong Kong continues, we will look back with longing at leaders whose biggest betrayal was to pocket a free apartment.