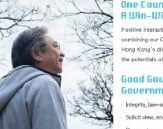 Hong Kong Chief Executive hopeful John Tsang produces his platform. It is a classic exercise in meeting the Chinese government's conditions on tightening national (ie Communist Party) security and averting democracy, while offering some out-of-the-box fresh policy ideas. The former are compulsory if he has any serious desire for the job, though they could cost him pan-dems' support and thus a nomination. The latter includes a negative income tax – 1960s-vintage Friedman.
As with all candidates, everything is back-to-front – he promises to create harmony before solving the issues that destroy it.
He will enable enablement, or something, but not when it comes to a cure for flu, which is all I care about right now.