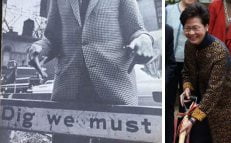 A profound cliché advises that, if you are in a hole, you should stop digging. Sadly, this does not apply to Hong Kong officials when continuing to shovel energetically down into a pit of night-soil is a sign of loyalty to the Chinese Communist Party.
Chief Secretary Carrie Lam was at some stage in the happy position of being able to brighten up everyone's lives – arranging for Hong Kong to get an indisputably classy and desirable new museum, while making the authorities in Beijing look kind, caring and considerate. Sadly, the announcement came across as high-handed and presumptuous, and it coincided with Carrie's hasty and (necessarily) devious preparations to possibly be the next Chief Executive. No-one, from hate-filled radical militants to leisurely critics-of-anything, could resist pouncing and tearing Carrie and her museum to shreds.
Within two weeks, the Hong Kong Palace Museum has gone from a secret proposal no-one knew about to an embarrassing mess that has Carrie and her team in full-blown panic mode. The PR rule that 'you must manage events, not be managed by them' must sound like a sick joke, as the elaborate symbolism spin-doctors designed to ram down our throats gets hijacked as a memorial to the 1989 Tiananmen Massacre.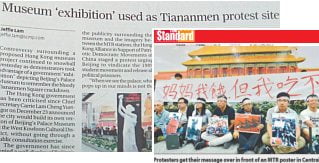 The main criticism of the Palace Museum proposal is that there was no public consultation. Pleas that it was supposed to be a gift, to celebrate the 20th anniversary of the handover, are in vain. Behold the whole Hong Kong-Beijing Gap in Understanding in HK$3.5 billion-style microcosm.
To Chinese leaders, it seems obvious that Hongkongers should welcome a dazzling collection of national treasures and even feel some patriotic appreciation. Hongkongers just want the Communist Party to go away and stop its post-1997 screwing-up of their city. For the Hong Kong senior officials caught in the middle, it is a time to display their professionalism, integrity, dignity, devotion to 'serving the community and defending its values' and moral courage – and thus drop to their knees to assure the Beijing rulers that they are right, and nothing could possibly go wrong.
The furious digging continues. The Hong Kong government's hapless cultural bureaucrats patch together an unconvincing and desperate 'public consultation' on the already-decided project, and then lose their nerve, and any hope of regaining a trace of credibility, by postponing it, to 'consolidate' the barrage of venom, blame and nitpicking. Carrie – as in 'Carrie the can' – knows there is no turning back once the manure is up to your neck. Visiting a school, she grins and tells the kids that rather than be bankers they can polish antique bronzes for a living. The school, inevitably, is celebrating that 20th anniversary. It has to be, doesn't it? She adds that they can also clean out pandas as a career.