Hong Kong Chief Secretary Carrie Lam will 'announce' her 'candidacy' for Chief Executive 'election' next week. Thursday, it seems. But wait! The mind-numbing hyper-predictability takes on unprecedentedly freakish dimensions – which is to say, the script-writers developing the story are introducing desperate plot elements that verge on parody of self-parody. Ronald Arculli is to be her 'campaign office director'…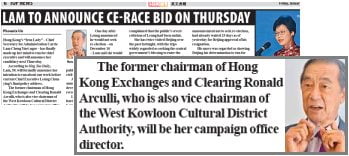 The Hon Ronald Arculli GBM, GBS, Diamond Award for Immeasurable Influence, CVO, OBE, JP: lawyer; elder and all-purpose front-man for the Hong Kong bureaucrat-tycoon establishment; obedient sitter on numerous toothless consultation committees and public-body boards; docile promoter of countless doomed government policy proposals; and occasional eater of bananas in Pacific Coffee. Apparently, '…he and his wife have been guests at Royal Ascot [citation needed]'.
The position of 'campaign office director' is obviously a ridiculous pretense in a rigged quasi-election. Even so, you would have thought someone would have the wit or flair to find a slightly fresher, less hackneyed choice as gimmicky mascot for our presumed next Chief Executive. But no – they called on poor dependable old Ron, knowing he will stand and grin, while clutching Carrie's Manifesto, to order.
It looks like a hastily cobbled-together, cynical and bored gesture contemptuous of public opinion. But it also shows that a good poodle-cheerleader is hard to find these days. The traditional tycoons and pompous bureaucrats had a nasty experience in 2011-12, rushing to openly back Henry Tang only to be betrayed when Beijing went for CY Leung. And the bold types who sided with CY at that time – like former civil servants Sir David Akers-Jones and Fanny Law – end up having to tip-toe away from a disaster.
This is a culture where the urge to shoe-shine is intense, but shoe-shining has become risky and dangerous, best left until things are absolutely certain, if ever. Ron is welcome to it. With Beijing these days apparently so unsure what it's doing, this charade is no longer even remotely funny.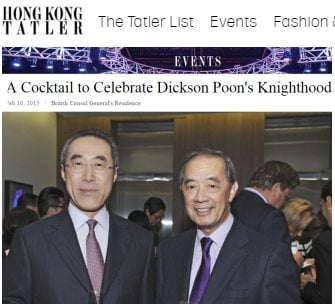 I declare the weekend open with evidence that we have surely hit Peak Self-absorbed Narcissistic Entitled Millennial…