…Regina Ip's grand official announcement that she will 'run' in the 'election' for Hong Kong Chief Executive. (Presumably, the lady fantasizes about a repeat of 2012: power-crazed Chinese officials at the Liaison Office will abandon Beijing's previous plan by leaking revelations of Carrie Lam's illegal basement-dungeon in which a stable of virile Korean toy-boys and Mainland '小鲜肉/little fresh meat' are housed, leaving 'Reg', as her friends call her, to pick up just over 600 'votes' cast by the Communist Party's robot-slaves on the so-called Election Committee.) While we wait…
Most Enticing Watch Ad of the Day Award goes to this in the South China Morning Post…
A 'tourbillon' is a type of onion popular in France. A 'perpetual calendar' is a calendar that takes you right up to The Rapture. A Lange 1 is of course the (now-defunct) predecessor to the Lange 2. By combining them, you get a watch that you can read (as opposed to one that you can't) and which exercises discretion – otherwise known as 'the better part of valour', which is unusual, if unnecessary, in a timepiece. This seems to have something to do with a tragic communications screw-up between the design and production departments. The result (as watch ads say): a small watch somewhat off-centre in a bigger watch case, sadly leaving us with something ugly and stupid-looking.
Which bring us rather neatly to the Nastiest  Office Tower Christmas Tree in the North-West Quadrant of Central Award Winner…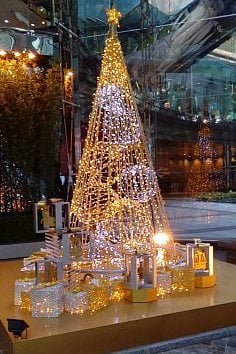 Congrats to The Center.
On which subject, this year's Nastiest Digital Christmas Tree from a Newspaper Award goes to the SCMP. If you are on their e-Christmas card mailing list (as Trump would say, 'Sad!'), you get a 'tree' made of the funny teardrop-balloon-things that Deputy Editor Phil Space scatters around the pages. And – nice touch! – they leave in a line that is supposed to be cut before sending. But mostly what you notice is that Big Red Star…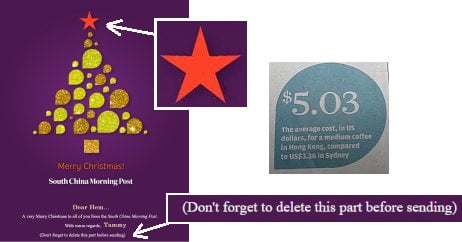 …straight off the Work Unit Party Secretary 's green cap.