Sensing that Hong Kong could badly use a laugh, not-very-well-known former judge Woo Kwok-hing announces his candidacy for Chief Executive. Great thinkers are struggling to work out what it means. (The Standard looks forward to hearing the poor man doom himself by taking a position one way or the other on the Crushing of Oath-Mutilating Splittists issue.)
China's Communist leaders will pre-determine the winner of next year's CE 'election'. Some, like Financial Secretary John Tsang, perhaps imagine they will agonize over Hong Kong people's preferences. Others suspect the dictatorship in Beijing will instinctively lean more towards a ruthless-authoritarian-psycho than a warm-and-cuddly type. The best we can say for now is that Woo is retired and needs something to do.
Over in Conference Land (via my email in-box), we find an eerie, cosmic parallel – a semi-obscure member of the legal profession has cropped up in a place he doesn't seem to belong, conflicting with the natural order by (possibly and relatively) having a grip on reality and even perhaps, to some degree, speaking sense in a place where none should be.
It is the South China Morning Post's forthcoming gathering on One Belt One Road. (You thought 'Belt and Road' had gone away? You were wrong.) The legal personage concerned is Anthony Neoh. It doesn't matter who he is – just look at the rest of the line-up…
He is, of course, the one who isn't Tung Chee-hwa, Jack Ma, Regina Ip or Antony Leung.
Leaving aside the odd man out, take a good look at that composition. First and foremost in the centre is Jack Ma, owner of the SCMP, in a grimy black T-shirt and presented as physically bigger than the others, who are placed behind him, looking over his sh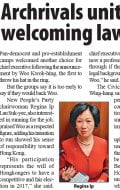 oulders. The designers have given Tung's stock photo the soft-focus treatment to bring out the old guy's much-loved fuzziness of word and deed. Regina is looking to the ground and sneering, as if at the crumpled and bloodied body of a freshly dispatched non-sympathizer. Antony Leung stars as Mr Bean.
(By the way, obsessive CE-hopeful Regina greets Woo Kwok-hing's candidacy with a delightfully sour 'good to see him participating' through clenched teeth.)
Attendees at the day-long session will be brutalized and tormented with the usual blather about a gateway crystalizing the Challenges! and! Opportunities! of middle-class-driven innovation and partnerships, with some agenda-changing shifting sands thrown in…

Then again, maybe the conference will be an unmissable bargain…

What jumps out here is the word 'unlocked'. It implies – or admits – that the One Belt One Road Zone Hub Scheme Vision Project is an incomprehensible pile of megalomaniac mysticism and gibberish. The auspicious sum of HK$3,880 is a pittance to pay to have the rip-off scam buried deep within this enigma made clear and accessible. Plus you get 300 influencers.
Now what…