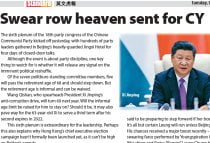 I am still trying to find someone who is mortally offended by the phrase 'Chee-na', as uttered by Sixtus Leung and Yau Wai-ching in their abortive Legislative Council oath-taking. I have elicited a few smirks, an embarrassed giggle and various eye-rolling shrugs and looks of perplexed bemusement – but no-one bursts into tears of grief or pain.
Officially, however – in Hong Kong's United Front domain – everyone is wetting themselves in orchestrated hysterical anguish at this shocking affront to nation and race. Pro-Beijing lawmakers are under orders to take part in choreographed protest, government officials are dabbing their eyes in sorrow, the patriotic rent-a-mob lynches radicals in effigy, and media rabble endlessly recite the clichés and memes about Japanese militarism and insults to the motherland.
(So far as I can tell after brief Googling, the 'Shi-na' name for China has ancient roots, possibly in India, was not intended as derogatory, and gave rise to the Latin word 'Sina', thus 'Sino-', and 'Sinic'. The early-mid-20th Century expansionist Japanese would have embraced it because China's name for itself –  'The Central Country' – would have struck them as insufferably arrogant and ill-suited for continental inferiors.)
So mass-mouth-frothing is the order of the day for Hong Kong's very own Basket of Deplorables…

…to which lawmaker Regina Ip is making a valuable contribution via her New People's Party…
That photo is issued by Regina's own people for publicity purposes – just in case you thought some malevolent PhotoShop fiend had done something nasty to them. They want the government to prosecute a pro-dem lawmaker for turning flags upside-down in Legco. This is a United Front witch-hunt compounded by Regina's own lust for the job of Chief Executive, which adds up to something deeply distasteful. The Financial Times says the 'vilification of pro-independence lawmakers echoes Communist Party tactics'. Of course, it is not an echo.
If I were a nicer person, I would be vaguely inclined to feel sorry for Legco's President Andrew Leung.

The (never-contested) Functional Constituency representative is one of the textile scion-tycoons who quit the Liberal Party as insufficiently plutocratic. He obediently took the job of Legco President – these days picked by Beijing's local Liaison Office – only to find himself fumbling into hostile territory when he tried implementing the Council's practices on whether to allow second attempts at oath-taking.
Now he is re-assessing his wavering. If he joins the herd of United Front zombies and reverses his decision to allow a second oath-taking, his credibility as an impartial Speaker vanishes just days into the job. (By contrast, predecessors Rita Fan and, mostly, Tsang Yok-sing enjoyed at least modest reputations for even-handedly pissing off the pro-Beijing as well as pro-dem camps in the legislature.) If he sticks to his decision, the Red Guards will be demanding that he kneel on broken glass and confess his crimes against the people. (Meanwhile, we wait for the courts to do their thing, though it could be they have nothing to do with it.)
The Standard sees Chief Executive CY Leung as the big winner from this chaos – the whole pro-establishment camp having been lined up behind him on the issue. Why would Beijing want some namby-pamby like Carrie Lam or John Tsang as CE when the number-one priority is to root out and crucify a pair of splittist radicals?
The Standard teases readers with the thought that the Youngspiration duo are considered to be CY's 'best running mates'. The Liaison Office's Big Orchestrated Cultural Revolution Oath-Taking Chee-na Indignation is, of course, pulling or pushing many Hongkongers into the more-or-less localist camp. And Carrie or John (or anyone) would – compared with CY – sap support for radicals. So it works both ways.