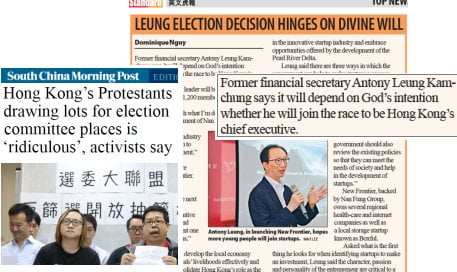 Hong Kong's Protestants plan to fill their quota of seats on the Election Committee by drawing lots. It sounds a bit un-Christian – isn't it how the Roman soldiers shared out Jesus's possessions? But the opponents quoted in the story are wrong in saying it is 'ridiculous'. Taking the Election Committee even this half-seriously is silly, and taking it any more seriously would be idiotic. If they had any principles, the religious groups would make a point of boycotting the whole farce.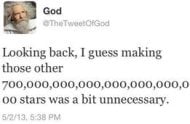 Luckily for them, God has other things on His mind. The Almighty is mulling over whether Antony Leung should offer himself as available for the post of Chief Executive, or whether the former banker/Financial Secretary should continue working for property developer Nan Fung. Unlike American politicians – to whom God speaks directly – Hong Kong hopefuls must await the call from His representative on Earth, otherwise known as the Liaison Office.
Somehow, in the midst of all the mayhem that is the Xi Jinping regime, Hong Kong localists, CY Leung, property bubbles, and all the other insanity and chaos in our little universe, Antony Leung just doesn't seem to belong. God's plan – I feel fairly certain – is that Antony carries on working at Nan Fung.
Among the bizarreness right now is the quite shocking rants, complete with tasteless graphics, coming out of Sing Pao, being monitored here. Some informed guesswork from Willy Lam appears here. To be Chief Executive of Hong Kong is to be the ever-dispensable poodle of a thuggish and paranoid Communist Party getting itself into deeper mafia-like infighting as the Chinese economy comes slowly grinding to a halt. Why would someone like Antony Leung (or John Tsang, or whoever) want to step anywhere near this snake-pit?
For example, there's the bad PR Beijing sends you on a daily basis, like when it hounds your innocent and idealistic young citizens. If it's any consolation, it seems the world's most famous living non-thespian Hongkonger, Joshua Wong, is not alone in being barred from Thailand. The Land of Smiles has also banned a computer game called Tropico 5. The digital pastime is of an enticing-sounding genre called 'dictator sim' (and I've been wasting time on dull old Tetris all these years). The aim of this role-playing fantasy amusement is to turn a charming tropical paradise into a military-run tyranny. The censors in Bangkok think it's 'not appropriate' – by which they presumably mean 'waaay too appropriate'.