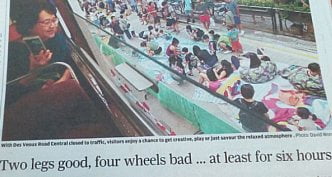 I had some things to do around Des Veoux Road Central yesterday, and I looked forward to sampling the long-awaited pedestrianized experience along the street. However, it was nowhere to be found in my stroll between World Wide House and around the branch of Fortress. I wondered whether traffic seemed lighter than usual, but then assumed I was imagining it. Indeed, I thought I must have dreamt the whole planned traffic-free experiment.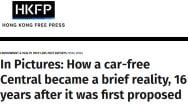 But apparently it did indeed take place – on a short stretch of the street some distance away. The pictures show a very Hong Kong style of people-first urban-management breakthroughs.
The authorities clearly did not want this to happen, and continue to wish that pedestrians would just go away and stop clogging up precious highways space needed by important seven-seater family vans. As well as limiting the traffic-free zone to a block or two, the bureaucrats insisted on a wall of barriers dividing the tramlines from the pedestrianized roadway. Since kids with delicate fingers and toes were being allowed to play in the space, I guess this makes some sense – but the arrangement split the street into two. Perhaps it would be better to pedestrianize streets that don't have trams.
We can gauge the hostility of government to this sort of policy by the fact that it has taken 16 years to get to this. Another indication is the way activists like Paul Zimmerman are praising officials' great wisdom, cooperation, vision, and Really Hard Work, when we know full well that all the overpaid bureaucrats have done is one tiny thing right for a change after 16 years' foot-dragging.
The public themselves, judging by the HKFP pictures, took to the Concrete We Will Let Humans Use for Today Scheme rather like ducks would take to water if they had been brought up in the Sahara Desert. They're not quite sure what it is, or whether they're supposed/allowed to get near this unknown phenomenon, but they could probably relax and learn to enjoy it, if it became a regular thing.
To which our officials will reply – OK, once every 16 years.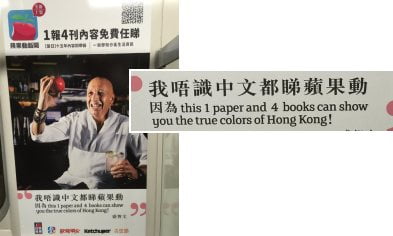 Now here's a strange thing: Allen Zeman – pro-establishment/Beijing landlord – endorsing pro-democracy (not to say totally anti-Communist) Apple Daily.