A few days after his bureau said teachers mentioning the 'I' word could lose their professional qualifications, Education Secretary Eddie Ng comes back from a brief but refreshing trip to Beijing to say that actually they can talk about Hong Kong independence in schools after all. There is a condition: the discussion must be within the scope of the Basic Law. No-one knows what that means. Officials can't say whether they want to criminalize ideas, let alone go into whether they can.
Since schools are currently closed for summer, and political debating sessions are not part of the curriculum anyway, this is a case of Clarifying Illogicalities Arising from Giant Contrived Mega-Fuss about Nothing. But pleasingly scurrilous young people in Hong Kong have discovered that by talking and acting as if a measurable 'independence movement' exists in the city, they can trigger yet greater automatic mass-mouth-frothing and frenzied head-exploding among Mainland officials.
Hong Kong officials and sycophants feel compelled to emulate their Mainland masters. But alas! Their automatic mass-mouth-frothing skills are mostly feeble in comparison with the vitriolic rants spewed out by the professionals in Beijing. The blatherings of shoe-shiners like Rita Fan or Fanny Law are so limp that it's embarrassing. (Indeed, Rita seems to have gone completely soft in the head, recently suggesting that Chinese Communist officials fail to understand Hong Kong – when any patriot knows it's the other way round.)
But occasionally, a local kowtowing groveler to the one-party state successfully comes up with a classy diatribe. Today's award goes to Alan Hoo, a Basic Law expert.

He is so miffed and alarmed by the creeping, lurking, looming pro-independence menace in our midst that he is demanding the death penalty, over the border, at least. Such heavy-duty, no-nonsense wrath rightfully deserves a response. The Hong Kong National Party, which Hoo wants banned, dares the authorities to declare it illegal and come and arrest them. The Communist Party's propagandists are of course also challenging the Hong Kong government to eliminate and crush the (unregistered, nebulous) group. Our officials can only squirm and issue macho-sounding threats to do something to someone, somewhere, sometime. Probably not next week.
(The Standard refers to the Hong Kong National Party simply as 'the National Party', which prompts in my mind the instant word association 'Pik Botha'. Presumably, the paper hopes that omitting 'Hong Kong' dilutes the subliminal-ish splittist message conveyed by the full name. Which it does, if 'Pik Botha' flashes before you.)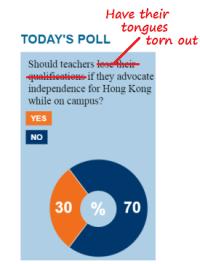 I declare the weekend open with Uplifting and Cheerful Documentary of the Month for the viewing pleasure of anyone interested: A Certain Kind of Death – how Los Angeles deals with the property and (especially) bodies of those who die with no next of kin.