The big shock-horror story today is that some of Hong Kong's behind-the-times, family-run banks and other institutions still maintain networks of walk-in brokerages. In the old

days, this was how the little guys would play the stock market. They would enter what looked like a smallish banking hall (typically in the basement under the main one), stand or sit around watching price movements on the screens, fill in a form, and take it over to one of the cashiers' windows to do the buy/sell transaction. It looked a little bit like – shall we say – a Jockey Club outlet.
Over the years, banks migrated customers to on-line dealing. But it seems some of the older clients enjoyed the physical experience, perhaps not least as a social occasion. Groups of day-trading grandads and grandmas would gather round terminals bickering over which penny stocks to punt on. To add to the fun and make sure everyone could join in, the brokerages would even lend you the money to gamble – or as they quaintly put it 'invest' – with. When did the Jockey Club ever do that? (This service is still going, of course.)
Was this dying business model kept alive for a while by Mainlanders coming over to trade here? If so, that would put the brokerages in the same category as the thousands of gold, luxury handbags and cosmetics stores that are, at last, starting to close down after taking over whole streets and districts. Either way, this is a sign of progress, even if the media angle is 'Hong Kong financial sector/economy going down tubes'.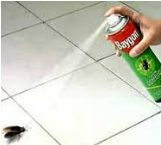 I declare the weekend open with the purchase of a new can of Baygon. My apartment has suddenly been overrun by battalions of tiny ants – actually doing that walking-in-lines thing as seen on TV nature shows – and a new mutant strain of giant, excitable, bullet-proof cockroach. It is obviously because of the current heatwave. Nothing to do with the fact that one's loyal domestic helper is away, oh no.
And talking of infestations, that water with special magic molecules rearranged by secret gamma rays is back in the company pantry…