Hard to imagine that someone could be so unthinkable, unfit, unqualified and unworthy – not to mention odious, oily and a purveyor of supernatural beliefs – that you are relieved to hear that the absurdity that is Donald Trump has beaten him to the Republican nomination.
It has to be said that Trump showed magnanimity, maturity, moderation, gentlemanliness and mercy in finishing Ted Cruz off with an accusation that Cruz Senior was buddies with Lee Harvey Oswald. He is too kind: Rafael Cruz is unimaginably creepier than that.
In keeping with the apocalyptic mood of this moment, I find a mysterious glossy leaflet in my mail box. Featuring one of those joyous-figure-on-mountaintop-against-sunset photos, it is an invitation to a 'Nothing is Impossible event' in Cheung Sha Wan in a week or so…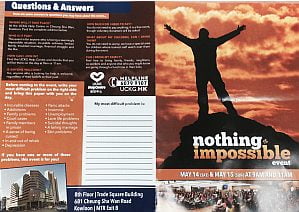 It is from something called the UCKG Help Centre. It offers solutions to a range of health and financial nightmares. Some are not hugely relevant to a safe and prosperous community like ours, such as 'family members in prison' or 'unemployment'. Others seem to be almost tailor-made to appeal to Hong Kong angst, from the metaphysical 'a sense of being cursed' to the ever-present 'skin problems'…
It gives some mightily impressive case studies, including a young lady cured of multiple sclerosis, and a kid whose twisted intestines suddenly fixed themselves…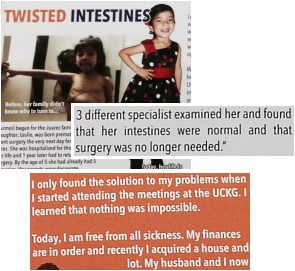 One brief reference to God appears (a woman whose unborn child's Downs Syndrome vanished before birth). But this seems to be an oversight: the compilers of the pamphlet cunningly try not to put off our secular local audience.
Obviously, it is some sort of church. If it were a non-religious multi-level-marketing scam thing, it would push only promises of financial abundance; instead, it tempts the insecure with escape from all ailments. Presumably some sort of 'charismatic' sect stressing worldly wealth here and now, rather than all that airy-fairy eternal-riches-in-Heaven stuff.
So to Google… It transpires that this is the Universal Church of the Kingdom of God, a Pentecostal empire founded in Brazil, and spreading everywhere, especially Africa. It was implicated in an infamous ritual abuse/exorcism/killing of a little Ivorian child in the UK. A South African academic notes that…
…the UCKG insists that relationships with God be devoid of 'emotions', that socialisation between members be kept to a minimum and that charity and fellowship are 'useless' in materialising God's blessings. Instead, the UCKG urges members to sacrifice large sums of money to God for delivering wealth, health, social harmony and happiness.
What brings these people to Hong Kong? Can't be the social harmony. Wikipedia mentions the church's supposed 'witchcraft' and 'intolerance to other religions', which aren't really big deals here. But it then adds 'charlatanism' and 'money laundering'. Maybe they'll feel right at home here, after all.
If that's not deranged enough for you, and even Rafael Cruz's preaching doesn't freak you out enough, there's always this otherworldly bizarreness to go to.