I work hard to avoid being caught up in the Hong Kong population's occasional herd-like behaviour. I know better than to visit Lamma on a public holiday, go to the waterfront to watch fireworks, fly out of town at Christmas, or try to get a MacDonald's hamburger when a Free Hello Kitty Doll Promotion is in full swing. But yesterday was the coldest day in the city in living memory, and I did find myself swept along with the madness of crowds.
I was not among the curious but stupid who needed rescuing after going up mountains to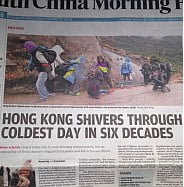 experience the sub-zero conditions. One of my earliest childhood memories is using my little fingernails to scrape ice off the inside of my bedroom window on frozen mornings, so I can live without frost. But I did succumb to the need for hotpot. After surviving a five-minute walk to the supermarket, I was Not Impressed to find other people with the same idea all clustering around the meatball/tofu/fishcake section, apparently unable to make their minds up. After elbowing them aside, I found myself agonizing for ages over the surprising range on offer before finally choosing a suitable selection, and also getting mushrooms, greens and sliced pork.
This all ended up in a Korean/Japanese dashi and miso soup, with garlic, green onion, sesame and radish, plus a soy/fish-sauce/chili dip. On this occasion, the mindless masses are right – this is the reason Hong Kong apartments do not have heating…
The tale of the five abducted Hong Kong booksellers continues to unfold in its depressingly predictable way. Lee Po's wife is allowed to visit him and returns with a clearly dictated letter asking Hong Kong police to cease wasting resources on investigating his plight.
Hong Kong government and police enquiries have prompted a vague official acknowledgment from Guangdong authorities that they know the whereabouts of Lee, who was taken illegally out of Hong Kong. Gui Minhai, who was taken illegally from Thailand, has been forced to make a lame-sounding 'confession' on CCTV. There is no word of the three who vanished while visiting the Mainland.
Presumably, the Hong Kong government is in contact with Beijing on all this, but it has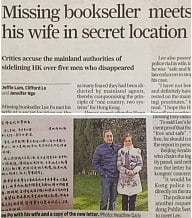 nothing to tell the public and is looking helpless and almost irrelevant. The latest letter from Lee won't help. Ghost-written by Chinese officials, it requests that our police refrain from investigating such apparent crimes on this side of the border as a kidnapping and illegal exit. The cops can't be seen to acquiesce without making a travesty of rule of law. But by officially continuing an investigation (however perfunctory) they in practice defy Mainland authorities.
Rumours and theories of what is happening abound. One idea is that forbidden books are being used by Beijing factions trying to undermine the Xi Jinping regime. This seems plausible enough. Another is that the seemingly chaotic and desperate devices like phony letters and TV confessions are in fact sophisticated psychological weapons employed by Beijing to confuse and numb the outside world into accepting or ignoring what is really happening. (By 'what is happening' we perhaps mean the planned 'extermination' of dissident materials overseas reported in the London Sunday Times.) This may be reading too much into the Communist Party's coolness and self-control – interpreting new extremes of ruthlessness as calculated and smart.
In the context of suppression of labour movements, clampdowns on NGOs, spying on lecturers, joke economic data, and all the other panicky freaking-out in Beijing, we are witnessing a regime that sincerely believes it is under serious threat. And the poor little Hong Kong government is hooked up to it, wondering what happens next.