Hong Kong's bookseller-abduction mystery continues. Aspiring Hollywood screenplay writers can see if they can devise theories more gripping than these, the most intriguing of which is that the abductions of five publishers are the work of a Chinese leadership faction trying to undermine Xi Jinping's regime. Sounds fanciful, until…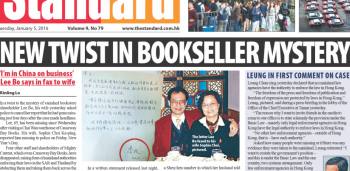 …the story takes a 'new twist' as missing publisher Lee Bo's wife tries to withdraw her report to the police. The Standard mentions that she worked at Joint Publishing, part of the Chinese state's local media network under the Liaison Office. Apple Daily is saying she is a columnist for similarly state-run Ta Kung Pao, and she is the sister of a noted and officially honoured Mainland poet.
So: Sophie Choi, who arrived in Hong Kong from the Mainland in 1977, and has good-quality professional and family Communist Party ties, has a husband who produces anti-Beijing books. That maybe sounds unlikely. But what if Sophie's ties are to a particular Communist Party faction and the books are specifically anti-Xi?
(This sort of complements my own deepest, sordid, whimsical suspicion of an absurdly elaborate publisher's PR stunt. Maybe the anti-Xi grouping is not trying to embarrass China's leader by making it appear that he is wrecking Hong Kong's autonomy, but by creating dazzling, global pre-launch publicity for a book about his past philandering.)
Getting back down to serious Earth – so far as possible – the disappearances represent perhaps the most worrying challenge to Hong Kong's well-being since 1997. This is reflected in the international media's attention to the case. Something has happened that looks like unprecedented extra-legal activity committed in Hong Kong by agents of the Chinese state.
This could be a portent of totalitarian doom for the city. If they send the tanks in, it's all over. But if the decision-makers in Beijing perceive that a screw-up on someone's part has happened and some sort of damage-limitation is necessary, this could be a turning-point. It could be a big wake-up call to local moderates who have daydreamed that 'One Country, Two Systems' is essentially secure and trustworthy. And it could be a (further) setback to the image of the Central People's Government, to the pro-Beijing camp, to Chief Executive CY Leung, and to many of their pet works (even down to the plan for a Mainland immigration post at the downtown rail station).
The key is for the media, pro-dem politicians and others to look beyond Lee Bo. One middle-aged guy in detention (maybe) across the border (maybe) sending comforting messages to his wife is not a big deal – easily explainable by routine Shenzhen debt/mistress/blackmail/insufficient-bribe problems. Five guys going missing (one apparently Swedish from Thailand, one possibly British from Hong Kong), all linked to the same book likely to embarrass Xi Jinping – that's a story on a different dimension.
Producing one guy alive and healthy who clams up so we all forget about it would be easy. Showing us all five with a credible explanation of their (obviously connected) disappearance will be a challenge worthy of a Hollywood plot-conceiver.
Mainland officialdom in some form is presumably/probably/99% certainly behind this – don't let them off the hook.
An additional reminder that anything is believable. Foreign Policy on Xi Jinping's no-effort-spared image-management…