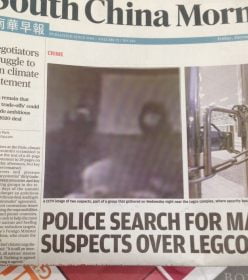 We are in that black hole in the lead-up to Christmas when all of a sudden nothing happens for a day or two. There is no big story, or even a modestly diverting medium-size one. All the media can manage is a blurred, grainy monochrome image of what appear to be a couple of round objects wrapped in some sort of covering, and an announcement that they are Masked Fiends and the targets of Manhunt of the Century wanted in connection with the Great Legislative Council Explosion Blast Bomb Attack of 2015.
I get instant positive IDs. The one on the right is clearly…

…the 'No Face' creature from the Studio Ghibli epic Spirited Away. While it goes without saying that his accomplish is a self-radicalized Jihadist. The biggest clue, however, is the location: they are posing in front of a Mark Rothko painting…

Although the SCMP blows up (so to speak) the outbreak of terrorist violence against the Copyright Amendment Bill, it all seems a bit half-hearted. The government could at least get some leverage from the Bin Blast with some mouth-frothing freaking-out about lawbreaking radicals – no doubt backed by hostile foreign forces – wrecking the Hong Kong economy. They could use it as a pretext to introduce a curfew or round up dissidents and herd them into sports stadiums.
But no. Pro-democrat veteran Emily Lau tut-tuts about the possible repercussions for Hong Kong's reputation, and a source (possibly channeling Sherlock Holmes) concedes that the perpetrators did not intend to cause injury, because, you know, there was no-one in the bin…

It gets even more unnerving. Over at the Great Territory-wide System Assessment Kiddies' Torture Debate, some schools representatives have a meeting with officials and suggest that the government listen to concerned parents' views…

As with all the uproars and conflicts that bitterly divide our society, the TSA battle seems fundamentally impossible to resolve. Dimwitted members of the public who have no idea what is best for them make idiotic demands, which soar far over, or bounce off, hard-working bureaucrats dedicated to serving the community – until the clamour becomes too great, and the officials retreat into a bunker until the trouble-makers get the message that they are wrong and go away.
This idea that the government 'listen to people' is quite disorientating. I declare the weekend open with the hope that everything will be back to normal by Monday.