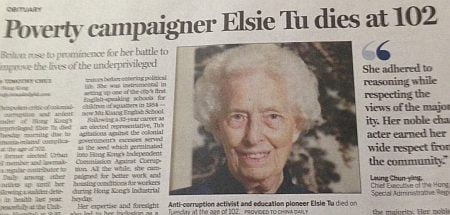 Everyone seems to have an Elsie encounter, so here's mine. It would have been the late 80s/early 90s. I was drooling at the deli counter in Oliver's – then as now in Central's Prince's Building. It was pretty much the only store selling fancy imported foods at the time, and I was counting my pennies to see if I could afford a few crumbs of Norwegian Jarlsberg, or some exquisite Spanish olives. Suddenly, Elsie was beside me, curtly asking the assistant for a generous portion of surprisingly pricy French pate. She would have nipped over from the Legislative Council next door.
To put this in its full, four-dimensional context, Oliver's was (as now) part of Dairy Farm, thus Jardines, the original opium-trading colonial hong.
The South China Morning Post seems a bit confused (not to say short of sub-editors) about how to categorize the lady…

She was pro-democracy but became anti-colonial? To the extent that the concept even existed in the 50s-70s, 'pro-democracy' would by definition mean 'anti-colonial' (though Communist supporters were also obviously both anti-colonial and anti-democracy). The conflation of 'pro-dem' and 'pro-West/British' is an anachronism here, and doesn't apply (if at all) until the post-80s era of the Washington-lobbying Democratic Party, the reforms of Governor Chris Patten and – more recently – the localists who wave colonial flags to outrage Beijing. The SCMP writers give up trying to make sense of it all and say Elsie 'was later seen' as pro-Beijing 'because of her political views', as if there could be some other reason.
Elsie's anti-colonial activism was in its own way intensely colonial. She originally came to China to save benighted native souls. As she made pretty clear in her book, she got away with organizing and protesting the way she did in Hong Kong only because she was white and British. Ultimately, she was absorbed into the establishment as a token fighter against injustice, adding legitimacy and credibility to the more modern and open style of regime starting in the 70s.
What the SCMP should have written was 'she was anti-colonial but became anti-democracy'. Much of that book is a fascinating and eye-opening account of the extremely corrupt and oppressive nature of Hong Kong's colonial government in the 50s and 60s. But as it goes on (it was written in 2003), she starts to get more and more furious about the US, imperialism and democracy, as a way to rationalize her transformation into a pro-Beijing apologist.
What happened is that in the early 90s, new/last governor Chris Patten introduced a (relatively) forthright approach towards the Chinese side and sidelined wishy-washy, hand-wringing has-beens among government hangers-on. Elsie was one, and she was miffed. She joined 'instant-noodle patriot' businessmen and opportunistic politicians and academics in the pre-handover migration to what is now the pro-establishment camp. Though easily dismissed as shoe-shining, this was simple self-preservation: as we see today, the United Front system divides everyone into 'loyalists' who can be insiders and 'the enemy' who are outcasts – with no middle-ground fence to sit on.
Rather than keep her head down – not her style – she went the whole way, supporting the official line during the 2000s and backing unpopular causes like Regina Ip's 2007 LegCo election campaign. She hadn't gone senile; she was still baiting critics sharply at 100.

It was just standard, chip-on-shoulder, side-choosing stuff (see how British radical leftists embrace anti-Semites).
The upshot is that the pro-Beijing camp is today sparing no effort in claiming and celebrating Elsie as one of their own. She is a god-send to them. She represents a vivid reminder of the rotten nature of British rule, contrary to the current trendy nostalgia. She provides them with an icon of workers' struggle for justice (a cause for which they have no sympathy, but the symbolism is a gift). And she is a riposte and even humiliation to the pro-democrats, who struggle to get their heads around the contradictions.
She is also a total one-off: with a few minor exceptions, she is the pro-Beijing camp's only worthy, authentic, popular hero – the rest are all sleazebags, shysters or (most unforgivable) just plain boring.