It's difficult not to smirk, but in all three neighbourhoods I passed through yesterday the forces of freedom and enlightenment won in Hong Kong's district council elections.
In Southern District's Wong Chuk Hang, self-confessed FTU/Communist Party front member Suki Chan lost after being outed as a desperate hirer of sullen fake supporters. And in Central & Western's Chung Wan, the extensively publicized pro-Beijing 'independent' Vienna Lau suffered a similar fate. The photo on top right shows some of her assistants packing up tons of campaign paraphernalia as night fell…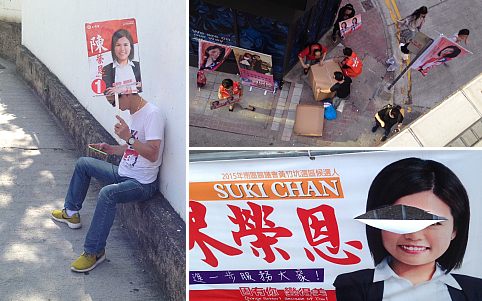 And in my own Central & Western constituency of Mid-Levels Escalator-Land, the pro-dem Mr Ng beat the well-resourced closet pro-Beijing incumbent Jackie Cheung. We should add that pan-dem Paul Zimmerman resoundingly beat the youthful but smug pro-establishment interloper challenging him for Southern District's Pokfulam.
So one cheery conclusion from the elections is that the Hong Kong Island middle class roused themselves in extra numbers in order to give the pro-Communist stooges a post-Occupy punch on the nose.
However, in the less well-heeled parts of town, it was a different story. (Blow-by-blow coverage here.) Having already ensured pro-government candidates were not challenging
one another, and embarked on voter-registration drives, the United Front system mobilized voters with zeal. Many were elderly, frail and, to put it bluntly, perhaps senile – but this is war. Pan-dems left some constituencies unchallenged and cannibalized their vote in others.
Still, 'pan-dems' is a broad part of the spectrum. While some older traditional candidates failed to do well, some younger ones met with success.
The overall picture supports the notion of a 'polarized' electorate and society. The demographics set older, poorer, less-educated public-housing (and elderly-home) residents on the pro-Beijing side against the better-off, worldly intellectuals and bright young things supporting various pro-dems.
In theory, the former should be in long-term decline while the latter segment expands. But the middle-class birthrate is next to zero, while Mainland immigration maintains a supply of (all else being equal) pro-Beijing voters. Psephologists and number-crunchers can sort it all out – but with planning and zoning systems clustering the population the way they do, gerrymandering should be a cinch. It doesn't look great for pan-dems in terms of elections.
Beijing's officials take (rigged) elections seriously as one way of crushing the hostile pan-dems – CIA-backed forces determined to use Hong Kong to bring down the Communist Party. The theory is that if they squeeze the pan-dems out of Legco, fake-democracy and other bills will be passed and all will be well.
But if you see opposition to the government as an effect rather than a cause of our problems, the elections are of relatively little consequence. District councils do little, and the Legislative Council is rigged. As the Occupy/Umbrella movement showed – plus anti-smuggler protests, the backlash against interference in universities, and so on – the opposition mutates and can appear anywhere. The Communist Party thinks it's being clever sweating blood over sidelining senior pro-dem stalwarts like Albert Ho. Meanwhile, along comes this…