Fans of the utterly bewildering will enjoy the campus controversy at Yale. It's got outrage and indignation, it's got Halloween costumes, it's got censorship, it's got 'elite and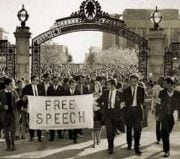 sophisticated students as cry babies' and it's got 'cultural appropriation' and 'safe spaces'. Given the Ivy/East Coast milieu, is there some slight possibility that the root cause is just some plain old racism/snottiness going on? But no – we're trying to make everything as incomprehensible as possible here.
Cultural appropriation is old-hat – a problem from way back with the late stone age Beaker copyright rip-offs right up to Paul Simon's thieving neo-imperialist Graceland album, and it still won't go away. This handy guide will leave you even more perplexed and anxious. The 'safe spaces' thing is intriguing. On the face of it, it looks like an elite and sophisticated version of putting your hands over your ears and shouting in order to insulate oneself from disagreeable vibes or (assuming there's a distinction) the media. There must be something more nuanced and profound struggling to get out.
Hong Kong is also hypersensitive to political correctness – but in its own, very different way. In order to avoid causing any offense to minorities with a victim-complex, we have to spout inanities about the wonders of 'One Belt One Road', and nod eagerly at China's every daily/weekly/monthly major step forward in internationalizing its currency and reforming its economy. Our trendy self-righteous progressives are the ones who call for 'cooperation', 'integration', moderation and harmony, and urge us to look forward and accept our historic destiny as part of the glorious loving Communist-dictatorship motherland. Our hurtful reactionaries, hate-filled fuddy-duddies and oppressive 'middle-class white males' fighting a losing battle to defend their outdated social supremacy are the ones bleating for democracy, alien Western ideas and traitor Johannes Chan.
But at least it's clear-cut and easy to understand.