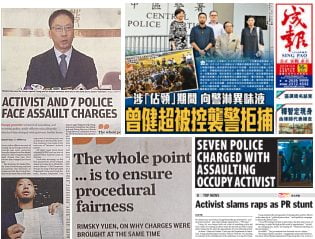 A year after the alleged incident was first broadcast on video, the Ken Tsang police brutality case is finally to come to trial. In order to ensure that the cops accused of beating the activist don't feel lonely or picked on in anyway, the authorities have simultaneously charged Ken as well.
We can tell that Ken's arrest and charging is bare-faced, contrived spin for the simple reason that it can't be anything else. If you really need more evidence, the government has issued a whiny and defensive statement by Secretary of Justice Rimsky Yuen denying it.
If you want to be depressed about what this means for rule of law in Hong Kong, see here.
The media now have a nice neat balanced package, in which both sides could equally be victims, and both could be equally guilty of assault. If we brush aside the little fact that the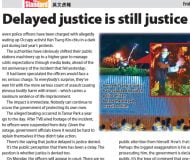 cops are headed for a higher-level court on more serious charges, we see an elegant, symmetrical equivalence. Just a tad more spin, and the media can present the story as one in which the 'black cops' are no worse than Ken – or Ken is no better than the cops.
Barely able to contain itself, the Standard's editorial dives right in. That stuff you've always heard about justice delayed equals justice denied? Total crap. Consider yourself corrected. And by saying the government is trying to divert attention away from the police, Ken (who – sniff – is barely even newsworthy) is actually trying to divert attention away from himself…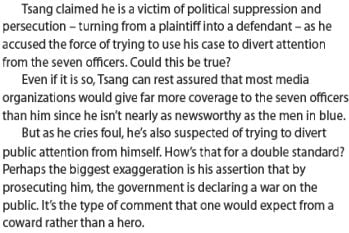 And he's a coward. So there.
Recognizing that we really need a laugh at times like these, the South China Morning Post
has taken the bold and admirable step of introducing a humour column. This week: former Security Secretary Regina Ip (she of the 70s-style 'tech' economic planning proposals, the weeping in public and the all-too scarily obvious lust for the job) would make a Truly Fab Chief Executive! (The SCMP includes a heart-palpitating extra added bonus for admirers of coquettish women in uniform sporting dazzlingly garish Union Jack Red lipstick – the photo at the bottom of the column.)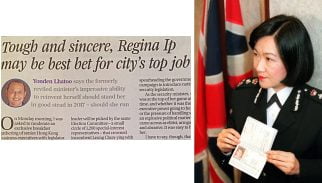 I declare the weekend open with more from the Standard, who are just getting started…