The South China Morning Post's headline-writers, unable to fit the word 'complain', use the slightly sensuous 'moan'. Maybe 'whine' or 'bleat' would have been better. Anyway – Hong Kong retailers are in a huff because this has been the worst golden week ever.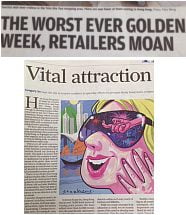 Originally 'golden week' was the Japanese spring break, when (by the visitor-arrivals standards of the time) hordes of Office Ladies in lacy socks and funny hats clustered around the Landmark to buy handbags. Now, it means the bundle of public holidays around either Chinese New Year or National Day. I would have thought the 'worst ever golden week' in Hong Kong would have been that of 1894, when bubonic plague swept through the city, or maybe in 1942, when the Kempeitai were using civilians for bayonet practice. Surely the retail sector would have noticed slower consumer demand at these times? But if the Travel Industry Council say it was this week, I'm sure they're right.
Commerce Secretary Greg So lists a wide range of measures aimed at boosting tourist numbers, or at least replace the Mainland Shopper Thing with visitors who might want to check out the local scenery and cuisine. Most of these supposed attractions date from previous administrations or are just Stuff Lying Around added to the list to pad it out (quaint back streets, hiking trails, etc). The tone of his reassurance to the tourism lobby – landlords, in effect – unmistakably echoes officials' standard and unconvincing concerns about lead in water, overpriced housing or air pollution.
If you think SCMP headline-writers and officials are unsympathetic, see what the Hong Kong public have to say. Lower rents are good, they insist, and the retail sector should go back to serving local people.
The SCMP's photo shows Mainland suitcase-draggers plodding around the streets with their stashes of Yakult and Louis Vuitton. The caption notes wistfully that fewer of them are coming to Hong Kong now. A close look at the picture shows that, indeed, there is roughly a yard of desolate empty space between each shopper-locust…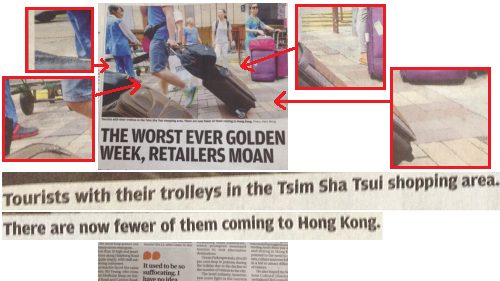 Such was the 'worst golden week ever'. Or, if the Mainland-shopper phenomenon really has peaked at last, maybe we should say 'worst golden week so far'.
One way to further reduce the tourist menace is to force visitors to look at something so vile and loathsome that their subconscious is forever scarred by the nightmarish image and they carry a subliminal phobia about ever visiting Hong Kong again. I declare the weekend open with the posters seen this morning outside a local construction site…
Yes, it's an ad. Don't you just want to rush out and buy a bunch of 'Evisu'?