We have all heard of the Fountains of Rome and the Bridges of Paris – how about the Drainpipes of Soho?
These ancient features of the urban landscape take on a new vibrancy when the tacky overpriced restaurant next door closes. And in Soho right now the closures are many. The three recent departures shown below are all just a few yards from one another.
They are, from top down: A) Cecconi's (residents never did work out how to pronounce it); B) whatever this one was before (I've reported the sidewalk obstruction to the government Efficiency Unit's TellMe@1823, but of course no action); and C) the dismally named Smokey Joe's BBQ Shack…
As B) shows, and all will find out, in Soho no-one remembers you were ever there within minutes of your signage coming down.
The fate of Smokey Joe's is a tribute to the vengeful wrath of the Gods of Cuisine. It couldn't have been open more than a year or two. And it warms the heart to see the failure of such a corny, shallow, tawdry concept-theme, even by the standards of the neighbourhood's depressing cookie-cutter concept-themes. (Yes, it had a massive flat-screen TV showing sports, how did you guess?)
As well as being unclear about how to pronounce the restaurants' pretentious names, the local inhabitants have no real idea what the food is like in them. All we need to know is that the rents are so high that a large chunk of the money you pay for a meal goes to the landlord, so why bother? Value for money is an economic impossibility – even when tiny tables are crammed so close together that diners' elbows clash. So for example, at Soho Spice (to the left of B) above) the menu says you pay HK$92 for pad thai, and after mineral water and service charge I would guess it comes to HK$150, and the food looks like a deformed crab fighting with a bunch of bean shoots and losing…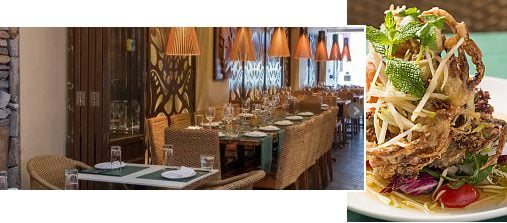 (I guess the food-porn photo features something other than the pad thai, by the way.)
Just minutes away, the secret old place we keep to ourselves serves up a pile of tasty Singapore noodles (seen here with the black pepper beef spaghetti) plus a huge free glass of ice lemon tea for HK$36, with trendy square plates, a fish tank, authentic 70s retro ambience and tons of space to relax…
In fairness, these are the afternoon Tea Set prices; add 10 bucks or so in the evening when they get seriously exotic with such classic quasi-Macanese-Euro-Canto delights as baked coconut chicken. This is the original 'fusion'.
Presumably, the three recent departures from the one small stretch of Soho shown above were all due to rent hikes. It's hard to believe that landlords are still trying to squeeze more out of tenants when the whole wretched luxury-exclusive-Burberry-tourism thing seems to have peaked. It's even harder to believe that tenants are dumb enough to pay, assuming they are.
It will be interesting to see what businesses, if any, take the newly shuttered spaces. Most likely they will be yet more clichéd concept-themed restaurants lining up for the slaughter – though purveyors of grotesque furniture for the trashy nouveau riche have been setting up in the neighbourhood recently. This one is round the corner…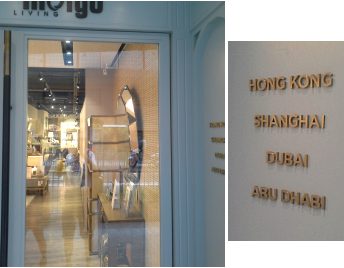 …and unwittingly portends Hong Kong's tragic decline into the ranks of soulless, tawdry, loser cities.
This interior furnishings trend suggests that more of the internationally mobile elite moneyed braindead are moving into the area, which in turn suggests continued demand for fake high-class cuisine, thus more indistinguishable, pokey, overpriced, oh-so-high-class eating places before long.
In the meantime, the drainpipes positively glow.
This just in: the HK government Efficiency Unit as envisaged by Quentin Tarantino…