The South China Morning Post gets caught rewriting headlines to give an anti-Hongkonger spin for its Chinese online edition aimed at simplified Mainlanders….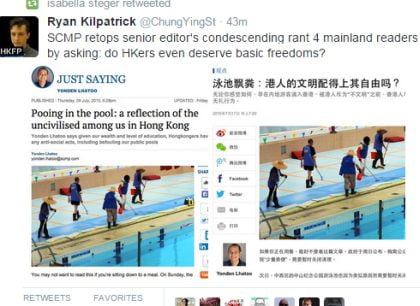 Presumably a plain everyday pro-Beijing angle isn't good enough over the border; only malice will do. Maybe the paper will translate 'HK government ranked world's fourth most efficient' as 'HK ranked useless pile of crap compared with other places'…

It has to be said that this is a decidedly strange story. The World Economic Forum is, like FIFA or the International Olympic Scamsters Federation, one of those murky-underbelly-of-Switzerland oligarchies that strut around importantly while the rest of us are supposed to grovel in deep admiration. It has come up with that space-filling curse of the modern media – a grand list of things ranked in order of wonderfulness according to our very own wacko secret-family-recipe objective criteria. The WEF are listing countries/territories in order of efficient government.
To much of the world, the 'lede' (as we media jargon experts call it) is that Qatar, oil-rich autocracy, is number one. The feeling seems to be that, if some despotic Wahhabi-financing sheikdom that must have bribed the aforementioned FIFA to host the World Cup and lets hundreds of Nepalese workers die on construction sites can be number-one, what diabolical savagery are places not even in the top 10, say Denmark or Canada, up to?
To us in Hong Kong, we take high rankings in our stride and in a spirit of good humour. If being World's Freest Economy, for example, means having the planet's most over-priced housing/wealthiest property tycoons, we can only laugh and say that if this your idea of freedom, you can shove it.
We would note that of the WEF's top 10, six are essentially city-state money-laundering

tax-haven places, which I have helpfully marked with a red spot on the SCMP's table. (I'm including oil-shiekdoms Qatar and UAE in this category, because they are up to their ears in that sort of thing, plus Switzerland, which is more 'Alps and cuckoo-clocks' than 'city-state' but otherwise fits the bill.) Another two, Finland and New Zealand, are inoffensive, healthy, clean, outdoorsy, blond, heavily wooded, underpopulated, meat-eating democracies famed, we have no doubt, for highly efficient government, marked with helpful green spots.
This leaves two other places. One that rather jumps out is plucky little Rwanda, in Africa, known especially for its mist-shrouded gorillas. We are vaguely aware that it has attracted praise for bouncing back from its unspeakable time of genocide. It vaccinates more kids than Seattle, for what that's worth. Among other reforms, it has scrapped French in favour of English – which alone surely qualifies as efficient.
The other is Malaysia. This is where we in Hong Kong and the rest of Asia have to ask WEF – WTF? We all like Malaysia for its scenery, for its architecture and – well, mostly, if we're to be honest – its food. In culinary terms, Malaysia is paradise, the pinnacle of its cuisine perhaps being the hybrid Nonya cooking of the Peranakan, or Straits Chinese. Some of the most amazing eating I have ever had has been piled up on a banana leaf at a plastic table in an open-air street-side tent, for a few bucks.
But this is a ranking about efficient government, not nasi lemak. Let's leave aside some Malaysian people's insistence that NASA's New Horizons probe cannot have reached Pluto because the sky is made of seven layers guarded by angels who do not eat (tragic!) or sleep. Let's overlook some Malaysian people's mouth-frothing over a wombat as an offence to Islam during Ramadan. We'll assume that a partly cretinous populace and highly efficient government are not mutually exclusive. Let's not even get too bogged down in unanswered questions about the 1MDB fund. Just check out Asia Sentinel and peruse one of the best recent surveys of Malaysia's development over the decades, which could be titled 'How to Screw Up a Potentially Great Country', but is in fact called 'How Malaysia Became a Kleptocracy'. Maybe the WEF is open-minded about the many ways a government can be 'efficient'.
I declare the weekend open with a couple of interesting thoughts from the Washington Post and the New Yorker…