Hong Kong's government supporters are in a bit of a huff.
First, there's the Lead-in-Water-gate scandal-panic-uproar, now requiring 6,500 households to fetch and carry water.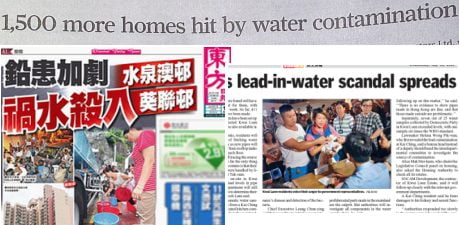 To establishment loyalists, this is an ambush by the Democratic Party (whose tests first discovered the contamination). It is a contrived and carefully timed fuss over a few molecules of metal, as blood tests on residents will surely show. The malicious aim is to make officials look uncaring about common folk (as if!), and smear Mainland construction companies as corrupt builders of tofu projects (ditto!). The idea is to put pro-government parties in an awkward position ahead of District Council elections later this year. This is typical of the slimy Dems, moving on from political reform to, er, livelihood issues. If they could get away with it, the loyalists would accuse the Democrats of putting the lead into the housing estates' plumbing in the first place.
Second (according to sordid rumour), there's some surprisingly intense mouth-frothing going on about an apparently innocent museum exhibition.
If you haven't been to 'Made in Hong Kong – Our City, Our Stories' at the Maritime Museum, you might want to get around to it soon if you want to see it in its entirety. I

visited it a few months back and thought it was pretty good – interesting historical photos, now-defunct local branded products (instant nostalgia trip for everyone over a certain age) and other cool artifacts, from bundles of old money to rusty police equipment. And, as is usual at the Maritime Museum, it's all arranged in a refreshingly offbeat, not-by-civil-servants way. Nothing untoward sticks in my mind from my visit, unless you count a video clip in which Allen Zeman appears. But of course other people's minds are different: apparently, some patriots were hugely disturbed by what they saw and are very angry.
One problem is a caption concerning 'One Country Two Systems' stating that the UK's Privy Council was Hong Kong's pre-1997 court of final appeal, and naming 'the Communist government of the PRC' as the post-1997 equivalent above the local Court of Final Appeal. Despite the odd language, some may consider this an accurate description of the National People's Congress Standing Committee that rubber-stamps 'interpretations' of the Basic Law that can overrule the CFA. The patriots, however, do not agree and consider it misleading or even offensive in some way.
More seriously, the exhibition mentions protests over National Education and the whole Umbrella movement. These appear in a film and, if I recall, one or two photos. It seems that the patriots are mightily displeased that such events are portrayed the way they are (objectively, I suppose) as part of Hong Kong's history as a vibrant and increasingly aware community, when the official party line is that such dissent is an unlawful CIA-backed plot to overthrow the Communist Party and civilization.
According to this hearsay, Chief Executive CY Leung himself is furious at what our locally based Chinese officials would think (if they went to museums), and has ordered the skinning-alive of whoever is responsible at the Maritime Museum, which is partly government funded. So if you see parts of a museum boss being tossed in the harbour near Central Pier 8, you will know why. 'Made in Hong Kong' seems to have been sponsored by HSBC, so maybe they're in trouble, too.
As I say, it didn't really register with me at the time; the displays and recordings were interesting but in other respects normal. But revisiting the exhibition via the video here, I wonder whether the patriots are not upset simply about specific content, but by the whole Hong Kong-centric theme. It shows a Hong Kong that starts in 1841 and is, over time, colonial, struggling, growing, diverse, prosperous, cosmopolitan, inventive and proud – with virtually zero reference to the Mainland or its government, and no laborious motherland and integration stuff. Through the eyes of loyalist pro-Beijing types, it's a shockingly off-message, even localist/nativist, interpretation of the city's history. It's actually quite a heartfelt and 'patriotic' exhibition – just the wrong patriotism. Better catch it before the thought-police get there.