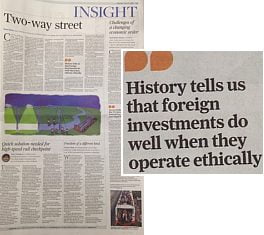 Could this be the South China Morning Post's 'new look 'op-ed page? It seems to have a vaguely – slightly – different layout. And it certainly seems unsullied by any hard-hitting comment of the sort that might alarm one's wife or servants. For example, the sub-heading of the main article tells us…

No Mugabe, no Sudan, no ivory in diplomatic pouches, just lots and lots of lovely technology transfer courtesy of a Kenyan official. Soothing with a reassuring dash of internationalist-trendy or what? It's not mere journalism – it's aromatherapy.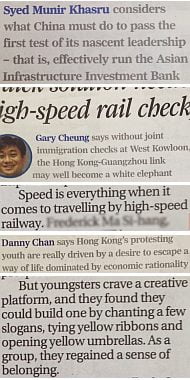 Next to it, another hitherto unheard-of writer from some Third World think-tanky thing lauds China's leadership and vision on the world stage. (I think. What is it about the Asian Infrastructure Development Bank that makes it so hard to be interesting?)
Rather than let the whole page be taken over by this Bandung Conference Re-enactment Society, the two smaller items below discuss topics closer to home.
One of the paper's own staff ponders the possibility that the HK$60/70/90 billion Hong Kong-Guangzhou high-speed rail link might be a white elephant if it doesn't have a unified immigration facility at the Kowloon end of the line. We will all naturally be hugely relieved to learn that – provided someone installs a bunch of desks and turnstiles in a particular location – the project will not be a white elephant.
Finally, a local academic comes up with an almost-charming but basically condescending portrait of Hong Kong's troubled young people. They protest, he says, to escape 'urban suffocation' and the rat race in search of creativity and some sort of pastoral bliss. It is a sanitized version of the Umbrella Movement, with no creeping Communist threat to rule of law, no parasitical property cartel demanding life-long serfdom, and no serious forecast of what this summer might bring. (He doesn't use the phrase 'economic rationality' – that's the SCMP sub-editor's little joke.)
One of the old-school professional columnists recently dropped from the SCMP predicted that the op-ed page would be given over to think-tank types writing free of charge. And so it comes to pass. He didn't mention how insipid they would be.
Recent rumours I am hearing about the SCMP… 1) Half the ground floor lobby at the Causeway Bay offices is to be rented out to a coffee outlet open to the public. Maybe a Starbucks, or maybe something really proletarian like a Deli France – the aroma of slightly underdone stale toast attracting hordes of Mainland shoppers off the busy street. 2) Staff working on the Sunday edition are to work from home. Or a Deli France. (No, not that Deli France. Anywhere but the office, basically.) 3) Tuesdays and Thursdays will henceforth be 'bring your own toilet paper' days. (One of these I've made up, but then they're probably all scurrilous lies. I pass them on merely to bring a little excitement and fun into our drabber-than-ever world.)