Here's a plan of part of a large shopping mall. There are five open-front clothing and electronics stores around a large common area, and three corridors connecting the whole space to the rest of the mall…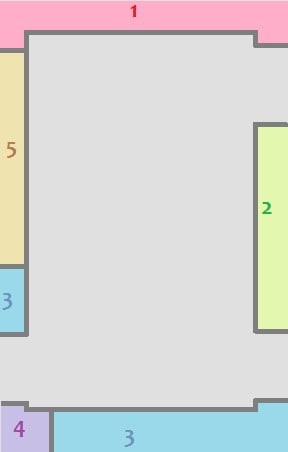 Under the tenancy agreements, the store owners are allowed to use the three feet of space in the common area adjacent to their premises…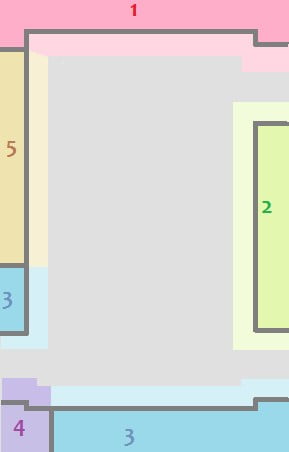 Some – indeed most – of the stores tend to abuse this at times and use even more space in the common area. Shops 1, 2 and 5 in particular tend to claim to have some sort of right to do this, though no-one else in the mall takes them seriously.
However, the people in fast-growing and profitable Shop 1 have recently started to get particularly greedy and even threatening. Although they are a bit vague about the specifics, they pretty much insist that they own not only the whole of the common area, but even parts of the other stores' three-foot extensions…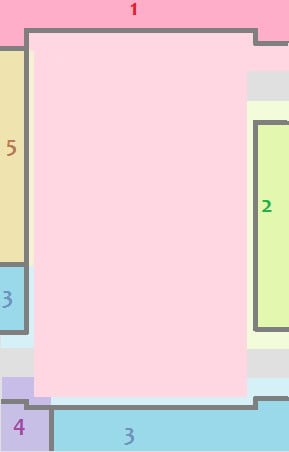 The once-effective security guard who used to keep order in this area has grown fat and lazy. He seems to spend most of time right at the other end of the mall, in a zone full of energy products stores with chaotic managements. He has now started to mumble something about coming over to the clothing/electronics zone more often and essentially make it clear to Shop 1 that it can't take over the whole public area. The owners of Shop 1, who are notoriously sensitive, are already showing signs of going into Major Foot-Stamping Tantrum Mode.
We are, of course, talking about this (and this, this, etc). There is no polite or euphemistic way to put this. In theory, this is a struggle for regional dominance between the US and an emerging China. But to some extent it is probably a three-way conflict, with the Chinese military (and maybe supportive factions) tussling for power with the Chinese government of Xi Jinping. Most likely, this time all parties concerned will step back a bit and muddle through for a while. But sooner or later something has to give, if not in the South China Sea, in one of the less extreme and outrageous of China's expansionist claims. Ideally, the civilians in Beijing will assert control over their generals and focus on their monumental economic, environmental and demographic problems closer to home. The alternative is – not pretty.
I declare the weekend open with a non-allegorical retail clash: another look at the slowly changing neighbourhood scene, where businesses aimed at locals seem to be resurgent against the tourist-oriented outlets that threatened to eat the whole district. A flyer in my mailbox invites me to this…
I suppose it had to happen. Just when you thought it couldn't get any worse, with all the dog cafes everywhere, someone opens one for kids. While it obviously sounds abominable – like something that would loom before you in a nightmare about Discovery Bay – we can at least say with confidence that this is not aimed at the Mainland and Korean visitor-pestilence. Hopefully, the business is owned by some up-and-coming plutocrat monopolist who will crush any competitors who try to break into this new and scary-sounding market. The alternative is that the concept will spread through the surrounding streets like a rat-borne plague, and we will become Asia's Child-Themed Retail Hub from Hell.
(Do kids even drink coffee? I have no idea, but you don't really associate the two.)