Cultural critic (nice work if you can get it) Perry Lam continues the South China Morning Post's ceaseless hysterics about how Hong Kong Must Have More Tourists. His little space-filler begins by asserting without question that overseas visitors' 'deep pockets' benefit the city. All right-thinking people know by now that only landlords make money from this human flood, while the rest of us suffer higher prices and lower quality of life. Indeed, if the industry actually dumped wads of cash on the rest of us, we wouldn't hate tourists.
Maybe Perry Lam subconsciously realizes this, as he goes on to argue that embracing tourists as if they were long-lost buddies will give us 'spiritual enlightenment', a claim he backs up with quotes from Confucius. We can achieve this bliss, he says, only if we see hordes of strangers from overseas not as customers but as friends. Otherwise we must content ourselves with being 'merely a city with tourist attractions, not a tourist city'.
I'm not sure if this argument is desperate or just deranged. We don't want these suitcase draggers and selfie-stick wavers as either customers or friends, and we don't want Hong Kong to be either a city with tourist attractions or a 'tourist city'. We want at least 90% of these verminous multitudes to go away so we can have our city back.
Ultimately, teeming masses of tourists make any destination unpleasant not only for locals, but for tourists themselves. Our tourism lobby's obsession with cramming more and more in as soon as possible suggests that they know this, and fear the approach of Peak Tourist. The clamour for More More More is the sound of panicky landlords desperate to keep bloated rents up for a few more months.
Which brings us to the neighbourhood retail situation. Like residents in many districts, the people of Escalator Land have been wondering just how many shoppers/visitors/tourists you can cram into a small network of streets before nature restores some sort of balance. In our case, the alien influx is especially of Koreans, who come in their hundreds to buy egg tarts from one specific bakery (Tai Cheong) and to stand around in herds outside our cherished Marks & Spencer food hall.
Sometime in the last six months or so, the tendency towards the opening of more and more stores aimed at tourists seemed to slow noticeably. It was as if some limit on obscure fashion boutiques had been reached, and the demand for pointless tat (scented candles, themed candy) sated. The number of vacant premises rose.
During this week, a couple of new businesses have opened just a few yards apart. They are hardly in keeping with the traditional retail ecology of the area, which just a decade or so ago supported electricians, stationers, no-frills hairdressers and noodle places. But nor are they targeting the tawdry tourist trade – and this provides a glimmer of hope.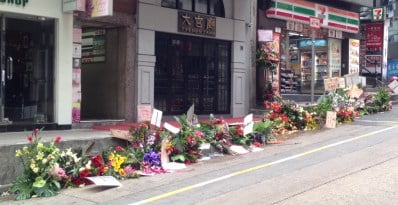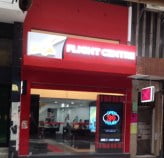 The first is a Flight Centre. There's no shortage of travel agents around here, so it hardly seems necessary, but at least it's selling something useful that local residents might want. The second is some sort of ritzy clubby-bar place going by the name of Tycoon Tann (shown above after vultures plundered the good-luck flowers). The Tatler's glowing admiration for the place suggests hyper-pretentiousness, trendy tall stools, brushed metal and all that stuff, though a 7-Eleven next door undermines the prestigious image somewhat. Presumably, it is seeking lower rents than those of Lan Kwai Fong/Wyndham Street a couple of hundred yards away.
How pretentious? I declare the weekend open with this gem…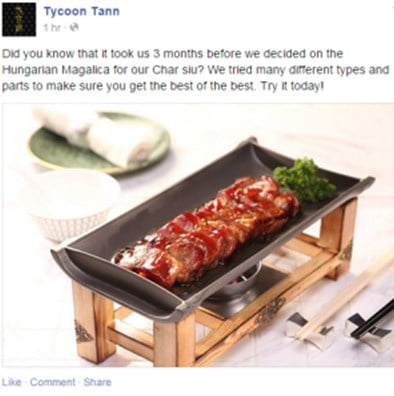 Update: As if the 7-Eleven didn't diminish the exclusive luxury ambiance enough, I find this morning that the entire sidewalk outside has been torn up – no doubt by swarthy, sweaty, working-class municipal ragamuffins – revealing vast bundles of muddy and stinky urban intestines…