Inanity of the Week Award goes to the South China Morning Post for the editorial headline 'Let's have rational debate, not chaos'. It's so trite it verges on wacky – too obvious to think up. You might as well say 'Let's eat ice cream, not dog droppings'. Coming soon, the boldly provocative opinion piece 'Nepal would be better if it didn't have earthquakes', to pad out the op-ed page's daily fix of hand-wringing columnists insisting how nice everything would be if only everything was nicer.
The editorial itself criticizes Hong Kong pro-democracy activists for mob-like protests, though it allows that government officials' open-top bus ride to promote the political reform package 'did little to facilitate dialogue and exchange'. The problem is that there is nothing much to debate. A Leninist-style one-party dictatorship has declared that we can have
elections by universal suffrage provided it chooses all the candidates. That is the end of it. There is no-one to discuss, argue or reason with. The Communist Party doesn't do debates.
A better headline would be 'It's a pity we can't have rational (or any) debate, and it's also a pity we have the odd bit of chaos on the streets. Oh well.'
This is, of course, not ignorance on the newspaper's part, but mischievous, or malicious, mendacity. By criticizing protesters for eschewing a rational debate that's not even on offer, the paper makes them rather than the aforementioned Leninist regime look unreasonable.
Flick back a few pages to the My Take column and you get the same thing. We are invited to believe that 'Taiwan' (actually President Ma Ying-jeou) is reasonable and responsible and a good example for our own local young hotheads who 'thumb their noses' at Beijing. I don't have a problem with leaning towards the realist approach to international or other relations. But in order to be a realist you have to grasp the basics of what's going on. Hong Kong and Taiwan are both free societies trying to protect their freedoms from a big and serious threat posed by the Communist totalitarian regime that controls China. To blame the people trying to protect their freedoms for being The Problem, for being troublemakers, is a travesty. (Independent but officially non-existent Taiwan has an especially hard time in this regard – see an excellent piece on this here.)
The danger is that after a while people start to believe untruths. I have lost count in the last two weeks alone of the number of stories in international media reporting as if the 1,200 members of Hong Kong's Election/Nomination Committee exercise some sort of free vote, when, beneath its convoluted structure and composition, it is simply a rubber stamp. This is important because 'chosen by a 1,200-strong Beijing-friendly body' and 'chosen in advance by the Communist Party' suggest different things. Use the former phrase (a la NY Times, BBC, Bloomberg, Wall Street Journal, etc), and you prevent people from understanding what is really happening. And today's FT…

Are all these correspondents reading the SCMP too much? That might be the problem.
I declare the longish weekend open with a shot of an MTR Incessant Helpful Advice Screen especially for everyone reading this on their phone while walking, as they probably missed it…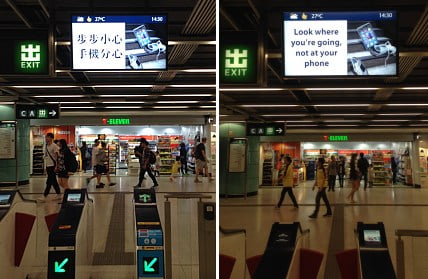 Might be more effective if they added 'you idiot'. (Wow. Just noticed something about the two photos: the closer you get to the screen/turnstiles, the further away the 7-Eleven appears. Cosmic…)