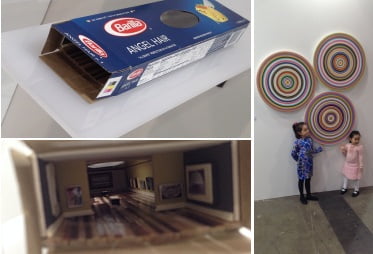 I looked at the empty spaghetti carton proudly displayed on a pristine white shelf. I peered inside. And there, as the little sign on the wall suggested, was a miniature art gallery. Ships in bottles – eat your hearts out. If it had been done by a little kid, it would have been very impressive. Maybe it was. There were a lot of little kids around.
To Art Basel HK 2015. This is the third year the world's biggest industrial-scale art fair has held its Hong Kong event, an addition to longer-standing shows in Basel and Miami Beach. The 'Basel' brand happenings are supposed to be the ultimate contemporary art events, at which hundreds of galleries from around the world rent a patch in a vast exhibition hall and present a small number of their offerings. This must be quite a quandary: for every spaghetti carton put on display, a dozen totally different types of painting, sculpture or installation had to be left back home. What to choose to stand out? What if a rival gallery from Brazil or Japan also has a pasta-box miniaturist on their books?
What follows is a tiny portion, picked at random painstakingly curated to represent the sheer range of works here.
Starting with stuff that looks like a child's playground, a child's painting or a child's nightmare…
Then we have the visual puns. The trash bag puzzled visitors, who thought it was exactly what it looked like. I plucked up the courage to prod it. It's a bronze, painted with the exact semi-gloss effect of a black plastic bag. A vacuum cleaner that's an electric guitar. A sports shoe that's a broom. A watering can gun. And a wheeled suitcase that's been bricked in. Clever and funny. But art?
The inevitable creepy stuff. The hyper-realist silicon (and human hair) sculptures by Sam Jinks attracted the biggest crowds.Did I see the kneeling girl breathe?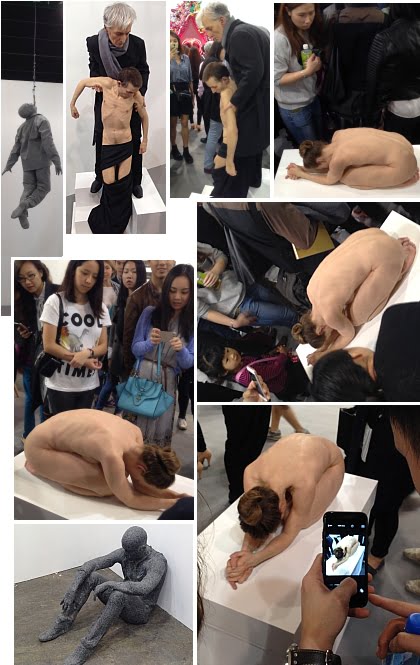 I have a soft spot for what might be called political collage. One artist that stood out was Leang Seckon of Cambodia, who lived through the terrors of the Khmer Rouge era. (The bottom two here are from a Kuala Lumpur gallery, possibly by a Malaysian artist – a Southeast Asian-themed installation of cushions accompanied by two chairs that are impossible to sit on.)
It has long seemed that Hong Kong is a place where fads and memes come to die. All sorts of once-fashionable ideas, having grown stale and outdated back home, come in search of somewhere that will still take them seriously. The Heritage Foundation's economic freedom criteria. Stand-up comedy. Various environmental/dietary/consumer fads. Yoga/pilates/spas. The aging-population panic. You have to wonder whether Art Basel, and maybe the whole modern-art/investment-market thing, is another intellectual or cultural cast-off. Not least because this this event gets so crowded you spend much of your time viewing other people…
Though it is a truly international crowd. Beijing intellectuals, trendy Southeast Asians, cool French. If this is a pretentious bit of Western money-driven hype, it is luring all of Asia. Hong Kong is the 'hub' its officials want it to be – even if it's of the 'post-skill arts movement'. (For a taste of the skeptical view from the Western world, try this or this.)…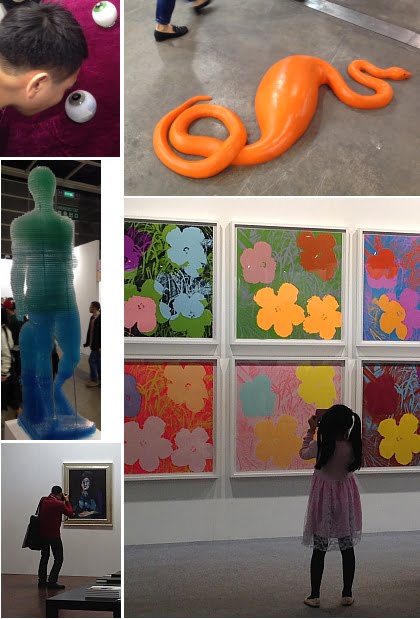 The public popularity of Art Basel HK also offers hope that the mega-museum at West Kowloon could be a hit if it can organize the exhibits side of things. It's not that it's great – it's just that after hiking and food, it's the only thing left in Hong Kong that isn't packed out with visitors buying Yakult and gold watches.