What do you call a hundred watch retailers chopped into small, bite-size pieces of dripping flesh and fed to pigs? Answer: a start. Year-on-year luxury-goods sales in Hong Kong dropped by a fifth in January. As with the plummeting gambling revenues in Macau, this is the continuation of a trend going back months. Late last year we were invited to believe that the Umbrella movement protests were responsible for this pattern (you were supposed to hate the kids in tents for wrecking the economy, not rush to the bank to make a donation to Occupy). Now it must be clear that Chinese leader Xi Jinping's crackdown on corruption is at work – though for some reason no-one is denouncing him for it.
The tycoon-friendly Standard finds a Chinese U professor to freak out about this terrible threat to landlords and civilization in general…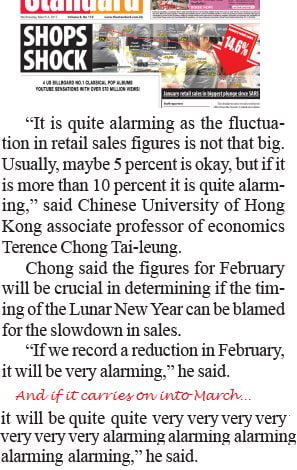 The South China Morning Post finds another Chinese U academic – this time, one who is

economically literate and dismisses retailing's contribution to GDP. Since tourism in Hong Kong boils down to little more than buying overpriced crap and taking a few selfies, he could have gone further and forecast great benefits from a decline in the parasitical industry: fewer tourists mean fewer luxury shops mean lower rents and prices mean higher purchasing power for the whole population and a more balanced and diversified economy. Next time, perhaps.
What we are talking about here is the 'Causeway Bay money-laundering/gift-buying' trade, not the 'Yuen Long smuggling racket' industry. Spending on cosmetics – and presumably milk powder and Yakult – hardly budged. Both types of 'tourism' benefit mainly landlords and harm ordinary residents, but the influx of Mainland shoppers in the New Territories is the really hot issue.
Officials are trying to cool expectations of a swift cut in the number of cross-border shoppers. Chief Executive CY Leung says it is not easy to curb Mainlanders' existing rights, and it requires the consent of central and provincial authorities. (CY needs to ask the governor of, say, Fujian for permission to decide who can come to Hong Kong? You learn something new every day.)
All-purpose pronouncer of pro-Beijing waffle Rita Fan goes further, and claims that failure to pass the 2016-17 political reform package will harm attempts to restrict the Mainland shopper influx. Her logic is that this is all making Hong Kong look ungrateful. In other words, the continued flood of smugglers is punishment for being stroppy. This sounds more like the contemptuous fantasies of a sour and grumpy old woman than a reasoned analysis by Beijing officials – but this could so easily just be naivety on my part.
Another Hong Kong delegate to the 'two meetings' in Beijing is Stanley Ng. The patriotic labour leader has over the last week or so called for 'Article 23' national security laws to be imposed on Hong Kong, and then backtracked, in the way such people do when Communist Party minders phone them with new instructions. In today's China Daily, he seems to be changing course again, specifically calling for action to ban ties between local and foreign political groups. Maybe this will inspire Rita Fan to come up with a new deal: implement Article 23 and in return we call off the hordes of Yakult-buying suitcase-draggers.
Even without excitable Communist loyalists complicating things, this is a conundrum for Beijing and the local administration. The multiple independent-visit scheme was packaged as a favour to help Hong Kong – for Mainland as much as Hong Kong audiences. It has massively benefited vested interests who have a highly developed sense of entitlement and are traditionally key allies of the government. Yet at the same time it is feeding nativism and hostility towards Mainlanders and China in Hong Kong. To curb Mainland visitor numbers would send a message to all Mainlanders that Hong Kong is all-important and precious and mollycoddled, and would be offensive to the whole post-1997 motherland-and-unity narrative. It would also be a concession to the umbrella-wielding radical anti-locust troublemakers. Who, with Sheung Shui, Shatin and Yuen Long under their belts, will be gathering for next weekend's anti-smuggler rally in sunny, charming and exotic downtown Tsuen Wan.