The South China Morning Post doesn't deem it worthy of mention at all, while the Standard carries it only in its print edition. So we are reduced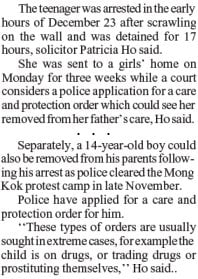 to the UK's lower-bourgeois-white trash Mail for a link to the AFP story of the 14-year-old Hong Kong girl sent to a children's home after being arrested (by a dozen fearless cops) for chalking a flower on the wall used for pro-democracy messages during the recent Occupy protests. In the past, we would assume there is a reason – the kid was found to be a drug addict, say. But then we recall the case of a teenage boy who could be taken from his parents after being picked up at the Mongkok protest site. Consider other instances of what Bloomberg terms 'repercussions' and you have a disturbing pattern: the authorities are abusing the law and the rights of children and parents in order to intimidate political opponents.
Some of the players have a (by Hong Kong standards) vaguely menacing, authoritarian air about them, like Police Commissioner Andy Tsang, not to mention icy near-Transylvanian Chief Executive CY Leung. But most of our officials, for all their arrogance, incompetence and other shortcomings, do by all accounts have some common human decency and respect for the institutions, constitutionality and values of their home city. So we can be certain that this repressive approach to pro-democracy activism is taking place on the direct orders of Beijing.
To put this in its depressing context, Reuters has reported that thousands of Hong Kong police have been on familiarization trips to the Mainland. If you were the Chinese Communist Party, you would want to de-program Hong Kong law enforcement, too. The disciplined services' culture since the 1970s has become more impartial and rules-based to protect citizens' rights, culminating in recent years in the HK Police winning opinion polls as the most respected arm of government. This is a hindrance to control and thus one-party rule/national security, and so it has to be replaced with a more Mainland approach where the outcome is all-important – and that outcome is a monopoly of power. No more of that helping-old-ladies-into-taxis nonsense.
Next on the list, if this carries on, must be the judiciary. Then, if they're going to do the job properly, it would be the foreign media.
Reuters also describes the expansion of Mainland influence on the local business scene. This hints at the decline of Hong Kong's native business 'elite'. It is hard to imagine that we will miss the grasping, cartel-owning, rent-seeking, octogenarian billionaire toads, but then we don't know what slick shysters and princeling playboys will take their place. Some see a dazzling, great new future. Landlord Allan Zeman likens tomorrow's Hong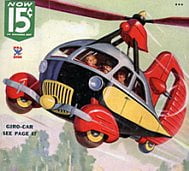 Kong to Manhattan and gushes that "People who can't have a home here will live in Shenzhen and be able to come here in 10 minutes," presumably in a personal flying car. Others might not be so enthusiastic: if you're wondering who these mysterious 'people who can't have a home here' are – well, it's probably all of us. To the Reuters reporters' apparent consternation, the Mainland tentacles are even breaching the sacred walls of the Ladies' Recreation Club.
Although Hong Kong is an irritant to Beijing, it is far from the most pressing issue. What will best convince the paranoid Leninist-with-Chinese-characteristics leaders that crushing the city is more trouble than it is worth? Some say that a downscaling of opposition and civil disobedience would increase the Communist Party's trust in the local community. Others, looking at the roundup of kids to spread fear, will conclude that greater civil disobedience is the only response that will make Beijing nervous enough to think again. Maybe we will find out in 2015.