So ex-Chief Secretary Rafael Hui, Sun Hung Kai scion Thomas Kwok, SHK fixer Thomas Chan and the rather pitiful one whose name we keep forgetting head off for their first night in prison.
Isn't this nice…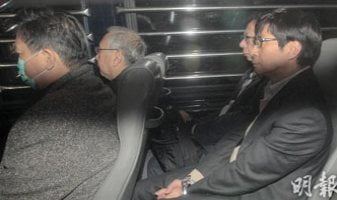 …the way the Correctional Services people put all four of them together in the van, so they won't get lonely at this no doubt stressful time?
The full text of the judge's statement yesterday suggests that the sentencing was scrupulously fair.
On the one hand, the judge said he realized that prison life for people of the four guilty men's age would be harsh, and he conceded that they had all previously been of the
utmost integrity – he had even read the nauseating letters attesting to the villains' kindness to animals, blah blah blah. (If it were up to me, I would publicly shred those items unopened, and condemn this shoe-shining ethos as part of the bigger collusion-corruption culture in Hong Kong. The tycoon-owned Standard of course fills columns with accounts of Thomas Kwok's philanthropy.)
On the other hand, the judge said (though not in these exact words) that this really counted for next to nothing because the four despicable fiends' acts were evil and loathsome to the entire community, which by the way is getting seriously sick of this whole government-business cronyism garbage.
He shaved a bit off the maximum sentences, but not by enough to count as merciful. Assuming appeals fail and they are released after serving two-thirds of their sentences, the four will each probably endure somewhere between three and five years of abject daily misery: a narrow, hard bed; monotonous food; no privacy from the hordes of dimwits and losers that are your fellow inmates; noise; being regimented and ordered round by soulless guards; the disgusting smell of sweat during summer; and utter humiliation. Four years or five of it – who could tell the difference?
(So many members of People for the Ethical Treatment of Animals have been jailed for vandalism against fur traders that the group once rated various prison systems around the world. Hong Kong facilities got very high marks for the vegetarian menu option. Something tells me Rafael will not share the vegans' enthusiasm.)
They will come out broken men. Perhaps.
Wouldn't it be funny if things worked the other way round from usual, and born-again Christian Thomas Kwok lost his faith while behind bars? Unlike all those murderers and rapists who, once incarcerated, mysteriously become all lovey-dovey about Jesus, he could emerge after his sentence as a bitter convert to atheism. "I spent millions on building a Biblically accurate replica of Noah's Ark, and what thanks do I get?"
I declare the both festive and four-day weekend open with tidings of joy, or at least mirth, courtesy of one of South China Morning Post cartoonist Harry's 'rejected' recent works, filched from the Foreign Correspondents Club magazine…