The latest analysis from security consultants Steve Vickers Associates blasts the Hong Kong government for its failure of leadership in the ongoing political crisis. (It is also pretty harsh about the disorganized pro-democracy Umbrella-Occupy movement, but of course the demonstrators aren't being paid to run the city.) The report notes the dangers arising from the authorities' apparent tacit use of criminal/Triad elements against the protestors, and even warns of a possible 'ugly premeditated event … perhaps calculated to cause maximum antipathy to Occupy Central'.
SVA is headed by a former cop, and the underlying tone is one of sympathy for the police struggling under extreme pressure, and anger that the government has put the force in an unfair and impossible situation. Newspapers, TV and especially the Internet are currently full of out-of-control (by Hong Kong standards) cops in Mongkok, whacking passers-by with batons, targeting reporters and high-profile pro-democracy figures for arrest, and beating prisoners – all allegedly, of course. While some people might like to see protestors being kicked around, the cops' mostly uncharacteristic use of violence can only harm the HKP's long-term public image, reputation and, presumably, morale.
Did the HKP blatantly rig a phony public consultation exercise on constitutional reform? No. Did the HKP launch cyber-attacks on local opposition media? No. Is the HKP flooding Hong Kong with 50 million Mainland shoppers we have no room for? No. Did the HKP artificially push up housing prices to unaffordable levels? No. But when public anger at atrocious governance inevitably boils over, the police are told to clear up the mess, while the Chief Executive and sidekicks crawl under a table and pretend they're not there. Or as the SVA report puts it:
…refraining from any real decisions and letting the Courts, Police and Bailiffs – institutions on which blame can later be laid if necessary – bumble towards some sort of solution.
On the subject of bumbling: whatever happens, the cops' reputation can't end up in as many tatters and shreds as Chief Executive CY Leung's. In just a few breaths he manages to contradict HKP requests for the public to stay away from Mongkok by advising people to go shopping there – handing the protestors another meme to have fun with – and blathers about curfews. You wouldn't have thought anyone could manage to be worse than predecessors Tung and Tsang, but he somehow pulled it off. Occasional whispers about a second term sound almost surreal.
But there is another way of looking at it – a revisionist interpretation that sees the Hong Kong government as a victim, just as much as the police or the citizenry. And that's because the buck doesn't stop here; it stops in Beijing. The Chinese government picked CY and authorized his team, and its officials insisted on micromanaging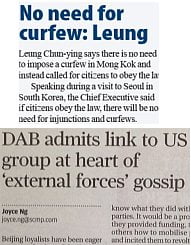 the constitutional reform process as if they were ramming through some unpopular mega-project on the Mainland, where opposition can be silenced and made invisible.
Chinese officials realize that they've screwed up horribly here. We can tell from the way they blame hostile foreign influences. Although officials refuse to name these forces, patriotic elements mutter darkly about a couple of US-funded non-profits set up to enlighten heathen societies about freedom and apple pie. As mentioned a while ago, these condescending do-gooders have indeed hung out with local opposition political groups – but they did so with pro-Beijing groups as well. And now the patriots concerned are admitting it (as well they might, since it's public knowledge, if buried away a bit). You have to savour this layering of bizarreness upon bizarreness. I'm going to miss 2014.
If God personally picked and announced Nobel Prize winners, He wouldn't be able to come across as so important as Time magazine with its Person of the Year thing. It raises several questions. First, who the hell are Reed Hastings and Jennifer Lawrence? And second, why does the (I guess informal) poll put Narendra Modi in top position? Not sure about the first (Person-you've-never-heard-of-of-the-year), but I suspect the answer to the second is that Indians are the only people in the world, outside of the magazine itself, to still take Time seriously. (He's their Prime Minister – of course you knew that.)
But anyway, the funny part is that Hong Kong student leader Joshua Wong comes third, beating China's General Secretary, President and Chairman Xi Jinping…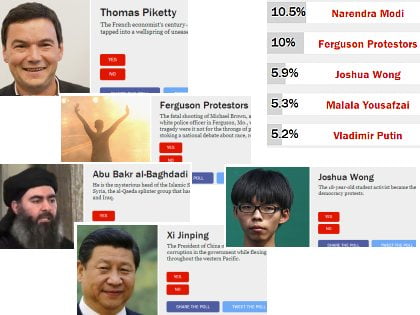 Not in the Time list, or anyone's line-up all of a sudden, is American entertainer Bill Cosby whose downfall makes CY Leung's look gradual and sedate. I declare the weekend open with a look back at the long-forgotten time Bill Cosby came to Hong Kong (check out the shanty town) and thwarted an early Communist Chinese plot to extend influence through soft power in Africa. Yes, really.