A South China Morning Post opinion poll shows an impressive degree of support among Hongkongers for a Legislative Council veto of Beijing's proposed electoral reform package for 2016-17. At the same time, in their famous, irritatingly pragmatic way, the respondents overwhelmingly doubt that the pro-democracy Occupy Central campaign could lead Beijing to change its position. To further blur things, the poll suggests that the majority of voters, especially the uncommitted, might 'pressure' rebel lawmakers in some way (at the ballot box in 2016). It also shows a significant if unsurprising gap in opinion along lines of age/education.
This is an unequal struggle. The pro-dems mostly lose whatever happens (their fate following a veto is gloomy at best). The national/city government remains in full control either way. It's almost a symbolic battle. And it will all come down to public opinion – that middle ground.
Those first two results of the poll are key. They suggest that the United Front's over-the-top campaign of intimidation, haranguing, astroturfing and general freaking-out has provoked a broad backlash. To get 48% of Hongkongers (alongside 13% undecideds) to agree on an action that is controversial and implicitly bound to fail is no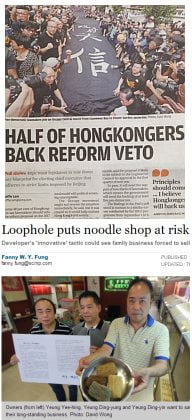 mean feat. Benny Tai and the other Occupy folk should write to the Liaison Office to thank it for all the help.
To put it another way, if Beijing and its rottweilers had kept their heads down and put political reform in the hands of relatively comforting, familiar local bureaucrats and hangers-on, the pro-dems would now have less public support. If they know what's good for them, Mainland officials will stop trying to instill fear and leave local counterparts to use time-proven techniques of (relatively) warm-and-cuddly public persuasion to get the pro-dems on the defensive.
One approach will be plain logic…
"Why do [pro-democrats] think the present Chief Executive election by the Election Committee, with its 1,200 members, is more democratic than the universal suffrage election that is on offer?"
Coming from someone less unpopular than CY Leung, this would be hard to answer rationally. The current system is 'open nomination for ballot' followed by 'Beijing-picked winner'. With the winner decided in advance, being on the ballot Albert Ho-style in 2012 is purely ornamental. Under the proposed framework, you get 'pre-selected ballot' followed by 'open universal vote for winner'. By modern international norms, it's crap; but it's absurd to claim this method is worse than the status quo. To the extent that the Chinese Communist Party is ceding control in the final step of the selection process, this is an increase in representativeness. Even if just 1%.
But the main struggle will surely be for people's hearts or at least guts. There needs to be some linkage between the political reform package and governance and livelihood. Which brings us to another quote…
"…all the great promises and words were cancelled for this generation. Beijing cannot countenance any election system that disturbs the oligarchy of tycoons it has consigned the city and its people to."
So says columnist Peter Guy in the SCMP. This is depressing, and there is plenty of other it's-time-to-emigrate comment around at the moment. The Communists have indeed put Hong Kong at the disposal of rapacious cartels owned by a handful of families. The tycoons' inability to restrain themselves from abusing their market dominance has produced Hong Kong's current crisis, courtesy of inequality, property prices, etc. But this is not set in stone: Beijing's number-one fear is not a decline in plutocrats' wealth but a popular opposition movement crossing north over the border.
Which side can best convince the middle ground of the population that its approach to political reform offers the best hope of a better life in material terms?
Occupy Central held a symbolically charged march in black yesterday, which attracted due media attention and a not-bad turnout considering how marched-out everyone must be by now. But where were they a few days ago when Lai Sun Development started trying to eject property owners from an old building by exploiting an even-scummier-than-expected loophole? (Knocking units together to achieve an 80% ownership level.) Where are they when schools and old folks' homes are threatened with closure due to rent rises that are directly attributable to pro-landlord policies? (Land-use and -disposal rules and the influx of Mainland shoppers.)
I'm not sure how Occupy Central and supporters can link a veto of political reform with practical livelihood issues. But if they don't, government officials will fill the gap. Tying political reform to modest sweeteners on schools, housing, health or pensions would be easy. Mendacious and slimy, no doubt, but easy – and probably effective in winning over the centre.