Front-page headlines on the South China Morning Post's main and City sections make for an interesting juxtaposition today. The former ponders the crowd size and potential mayhem of the mooted Occupy Central action in favour of democracy in Hong Kong. The latter describes the city's declining quality of life, and how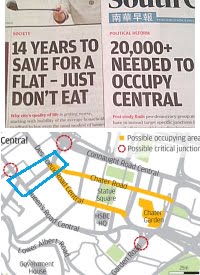 housing has become so unaffordable that a typical household needs to save its entire income for 14 years to buy a home. Every element of the pro-Beijing/establishment sphere is being regimented into chanting slogans about how pro-democracy action on the streets will damage the economy. The two headlines suggest the opposite: the wanton deterioration of livelihoods has already happened, and public anger is the result.
The SCMP believes Occupy Central needs double its hoped-for 10,000 participants to bring the business district to a halt. The paper assumes that the civil disobedience planners will have everyone linking arms along Chater Road and at particular scattered intersections. I'm no expert, but I would have thought swamping just one section of Peddar Street plus its intersections with Wyndham/Queens and Des Voeux/Chater Roads (in blue box on the map) would gum up the north-, west- and east-bound traffic flows well enough.
(Strange, isn't it, that when you fill the streets from Victoria Park to Admiralty with marchers on July 1, the police barely count 100,000, yet it now takes a fifth of that number to fill a few yards of Chater Rd?)
The SCMP quotes a police source as fretting over the possibility that protestors will target the cross-harbour tunnel and other 'major highways and landmarks'. Let's think: Government House, the airport, all border crossings with Shenzhen (please), an amphibious assault on Disneyland and (this would stretch the manpower) taking every 7-Eleven in town. Presumably, the cops are talking excitedly of an urban paramilitary uprising because that's what Beijing's officials expect and require them to do. Or maybe they really believe it. Being accustomed to law-breakers who use violence and run away, the police could find peaceful and static villains a bit overwhelming. The joys of asymmetric conflict!
Before Occupy Central even decides whether to go ahead, its fake-grassroots opposition movement has its big gathering this Sunday. The Standard quotes organizer Robert Chow as advising marchers to smile in the face of taunts from misfits who are not part of the Silent Majority. So, as a result of the Communist Party's United Front pressure on your boss, you've been forced to cancel a dream vacation with your family with no refund, and ordered to walk through the streets in the heat and humidity chanting slogans about how you like needing 14 years' salary to buy a home – and then you have to grin. You'd want to slash your wrists. But they've thought of that…