Earlier this week, we heard that Mainland students in Hong Kong were increasingly renting single rooms with local families rather than sharing whole apartments – often in fairly fancy developments – with one another. One reason, tacked on at the end of the South China Morning Post story: "…the central government's anti-corruption campaign has curbed ostentatious spending…" Today we get the news that the city's retail sales are continuing to fall, especially in the luxury-goods sector. Again, the Mainland corruption crackdown is cited as the cause.
Not everyone wants to admit such a link. The HK Retail Management Association claims that unstable weather and the World Cup in Brazil were to blame, while the Standard notes a government spokesman attributing the drop to 'moderation in tourist spending on big-ticket items' – in other words, lower spending was caused by lower spending.
This is not surprising. The cramming of more and more people into Hong Kong is supposed to reflect the city's dazzling success as some sort of 'hub'. As right-thinking people have come to realize, it's a scam: the local community suffer overcrowding, higher rents and reduced economic opportunities, while the landlords make more and more money. Now it becomes clearer (though Mainlanders' behaviour in the local property market and in Macau already made it pretty obvious) that the flood of money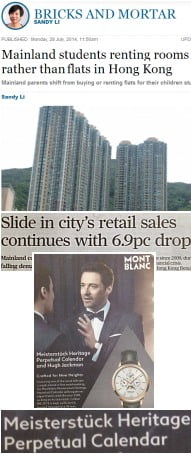 distorting the economy so badly is linked to China's corruption. Call it a key pillar of the economy all you want; it's the proceeds of crime.
(And let's be blunt about this: the more landlords make, the less you and 7 million others have to spend on other things. 'Tourism' damages the economy.)
The overpriced-junk – also known as 'luxury' – retail sector was probably approaching saturation point anyway. My own neighbourhood is generously providing space for such purveyors of tat as Ralph Lauren (drab jeans and shirts) and Royal Selangor (metal mugs renowned for being literally lackluster). A bit down the way are a couple of obscure boutiques selling some remarkably ugly swimwear for women; there's also the inevitable perfumed candle place and a store selling handcrafted artisanal organic blah-blah writing paper in shades of green and purple. This is scraping the bottom of the luxury goods barrel: at least the tacky Mont Blanc Meisterstuck Heritage Perpetual Calendar (huh?) can tell the time. They should have a big sign at the Wellington Street/Lyndhurst Terrace junction saying 'You Are Now Entering the Utterly Pointless Crap Zone'. Even the most desperate and shallowest cadre will scratch his head in bewilderment if some groveling toad-like shoe-shiner tries to sweeten him up with a box of handmade puce envelopes.
Are we going to see any closures? If we do, some of the local jewellers like Chow Sang Sang and Chow Tai Fook, with branches now infesting even down-at-heel districts in Kowloon East, may be the first to shut some outlets. Big international brands may stay put; their presence is often 'strategic', which means, following the warped economic logic of designer labels, they are happy to lose money in order to raise their profile among the emerging Chinese middle class.
Of course, this does little or nothing to curb the Yakult-buying hordes from Shenzhen.
I declare the weekend open with some exceptional weirdness: a 1974 jazz album called Power of Source by a band known as the Apollo Stars. The music is not too dreadful – I suppose – even if unpolished. What is interesting is that this is a Scientology production. Yes, that's L Ron Hubbard, founder of the multilevel marketing scam-cum-cult, there at the mixing console. It makes a Meisterstuck Perpetual Calendar seem normal in comparison.