The South China Morning Post investigates the Lantau Development Advisory Committee and its members' declared interests – like Randy Yu and his in-laws' 29 plots of land in Tung Chung (lots more here). OK, so it has mosquitoes and snakes and loopy Western women adopting water buffalo, but these guys must really hate Lantau, with their dreams of turning it into another Sheung Shui full of Mainland shoppers. I am delighted to help the SCMP out on a few typos…
The environmentalists and residents are opposed, of course, and so yet another battle commences. As if the government doesn't have enough on its plate with Occupy Central's 'civil referendum' hitting 750,000 votes, graduating students snubbing Chief Secretary Carrie Lam, plus ongoing protests against the Northeast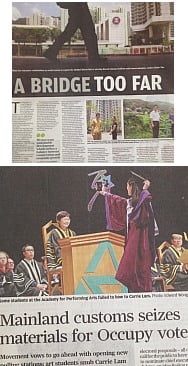 New Territories plans, assorted threats to dolphins and so, so much more.
The mood in Hong Kong isn't perhaps as determined and fed-up as at this time in 2003, when the city had been facing down both SARS and Article 23. But it is angrier than at any time since Tung Chee-hwa resigned, as the numbers marching on July 1 will probably show. And the reason is not so much the local administration as Beijing and its clumsy attempts at preparing us for political reform on its terms. This direct intervention is, if nothing else, fascinating to watch: the management of expectations by freaking out and ranting, and then frothing at the mouth when it doesn't seem to work.
The Chinese authorities' almost allergic reaction to the 'referendum' has surprised even the more arrogant and militant in the pro-democracy camp. In the latest act of desperation, Mainland Customs have confiscated ballot boxes and voting booths being shipped to Occupy Central. They've done this before with unpatriotic T-shirts, but this suggests new levels of paranoia and insecurity – and sheer frustration and incompetence when it comes to imposing central will on a pluralistic society. As a Taipei Times editorial puts it: "…the more threats Beijing makes, the faster Taiwan and Hong Kong run in the opposite direction."
Japan, Vietnam and the Philippines might want to take note here. Put up a few polling stations and a 'referendum' sign on your islets and atolls, and watch the PLA collapse into little pieces in fear.
Just as I am about to declare the weekend open, a copy of LaDA Newsletter lands on my desk. That's the Lantau Development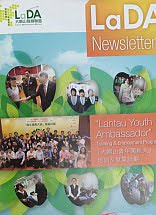 Alliance, a private-sector group with much the same membership as the (I think subsequently formed) government-appointed advisory body. Their motto is that Lantau 'has tremendous development potential', which means 'lots of places not covered with concrete and malls'. They have been on study tours of such grubby bits of the Pearl River Delta as Hengqin Island. They proclaim a desire to 'establish career mobility pathways for youth from grassroots families', where 'career mobility' means 'minimum-wage' and 'pathways' means 'dish-washing jobs'. And they have recruited kids from Tuen Mun into an evil-sounding Youth Ambassador scheme to this end. They want to do something unspeakable to Sunny Bay – it's hard to say what exactly, but you get the impression the place will need a new name afterwards.
And just as you thought it couldn't possibly get any more loathsome and chilling, you find out what that new name will be…