After two and a half years of complaints and protests, is Hong Kong finally going to get some relief from the influx of Mainland shoppers?
The idea provokes howls of anguish from the 'tourism' lobby, centred on the retail-landlord interests of the property cartel. Such is the influence of this parasitical industry (and dimwitted policymaking) officials have long automatically supported anything that pushes up raw numbers of tourist arrivals and rents.
Beijing agreed to facilitate a big increase in Mainlanders visiting Hong Kong for leisure purposes after SARS left the city gloriously devoid of tourists for a while in 2003. While it might have seemed like a good idea at the time, the crush – and Mainlanders' determination to buy particular goods in particular areas – started creating serious market distortions and physical inconvenience. Residents complained, mounted anti-'locust' protests and stooped to frankly obnoxious behaviour towards some visitors. Yet officials refused to admit there was even a problem, perversely insisting the influx was a good thing.
That seems to have started to change over the last few months. There was the Great Mongkok Baby Pee-Pee/Poo-Poo-in-Street Shock Outrage Massacre, which magnificently captured on video everything that was going wrong with everyone everywhere concerning the Mainland inundation. The story spread and cross-border relations at the level of public opinion showed signs of mutual detestation. Even the most obtuse officials could see that the United Motherland Happy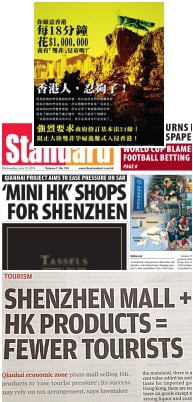 Family thing was going down the tubes, all because of – to oversimplify slightly – Yakult.
A month ago, the government raised the vague possibility of cutting the inflow by 20%. A few days back, officials reported discussions with Beijing about restricting qualified Shenzhen residents – currently entitled to come and go without limit – to a handful of visits a year.
Beijing, of course, is now driving this. We are in the midst of Occupy Central, the backlash against the 'One Country Two Systems' white paper and the cyber-attacks, chaotic demonstrations about New Towns and the 'civil referendum' in which over 700,000 voted. And there's the July 1 march next week. The Chinese government is clearly unnerved by the mood in Hong Kong. Resentment against Mainland shoppers and resentment against Beijing overlap. Curbing the influx of Mainland visitors can only help defuse things.
There are some problems with cutting the numbers. Hong Kong officials who pushed for more tourists post-2003, including CY, will lose face. The tourism lobby, accustomed to getting everything on a plate, will squeal like pigs at the prospects of lower rents. More seriously, such a measure would send confusing signals to the Mainland public, who are told that tourists are a form of aid to (an ungrateful and spoilt) Hong Kong. But when you're paranoid, lying awake at night freaking out at the idea of civil referendums sneaking over the border, these are not big deals.
The news today tells of officials in Shenzhen's Qianhai Economic Zone Hub angling to start up a 'Hong Kong' mall. It sounds desperate and opportunistic. As with Shanghai and all the other supposed zones, the only advantage Qianhai can ever hope to have is through privileged tax or regulatory treatment. The bureaucrats up there have been dreaming of Hong Kong-style financial freedoms that would enable them to attract glamorous international banks and brokers. With Beijing not playing ball, perhaps they spy a Plan B: wangle some tax breaks and become the Pearl River Delta's Rolex and Yakult hub, luring millions of shoppers away from the overburdened Big Lychee. We wish them luck.