The all-out propaganda war against Hong Kong's pro-democracy Occupy Central movement takes credibility-stretching to new limits, indeed probably bursting point.
The story so far… We have had: orchestrated mouth-frothing from aging local patriots; dutiful if unconvincing warnings about business disruption from shoe-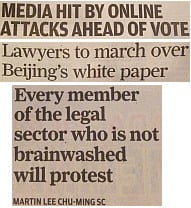 shining chambers of commerce; gnomic warnings from grim-faced Beijing officials; pitiful hand-wringing from guilty-looking local bureaucrats; attacks on Occupy Central and Next Media websites; various unsubtle hints of no-nonsense law-enforcement action against protesters; and a white paper from the Chinese government comprising an updated shock-and-awe regurgitation of the 'One Country, Two Systems' party line.
The finger-wagging and carping and prophecies of doom are supposed to scare the opposition, but instead they send the message that Beijing is unnerved. The Communist one-party state, in all its paranoia and insecurity, is actually taking Occupy very seriously. A civil disobedience exercise that would probably have passed by as unnoticed as any other fruitless pan-democrats' protest is elevated into a world news story.
Now, all that seriousness is at stake and the whole thing threatens to become a huge laugh. Kafkaesque turns to Pythonesque, as the ridiculously self-important Silent Majority unveil their Ultimate Scary Anti-Occupy Freak-Out video…
Synopsis: Within an hour of thousands of protestors sitting in the streets of Central, the traffic is backed up all the way to Admiralty and Western (probably
because it was already). An hour later, it is clogged up all the way to Kennedy Town and Causeway Bay, and the Western Harbour Tunnel comes to a halt. Pregnant women start dying in the streets as ambulances can't get through. The gridlock spreads in both directions until it meets up in Stanley, and with all harbour crossings shut, 400,000 people are trapped on Hong Kong Island. Sorry, that should be Trapped! On Hong Kong Island!
Machine-gun-toting looters run riot as the streets grind to a standstill in Tsimshatsui, then Mongkok, then Tsuen Wan, then Shatin, then (you get the idea – fatal catastrophic road blockages spreading like vermin/cancer/tentacles/wildfire through the New Territories). The MTR suffers an overload of swarms, and now 5 million people, plus Mainland shoppers' wheeled suitcases, plus thousands of innocent furry kittens and bunny rabbits are trapped, everywhere. Trapped! Everywhere!
With emergency services helpless, fires break out, Star Ferries sink and aircraft come crashing out of the sky. The traffic jams by now have spread as far as Shenzhen and up to Guangzhou, and the number of pregnant women and bunnies machine-gunned by looters is reaching the thousands. Evil pro-democracy activists meanwhile sit there grinning. By the end of the first day, all road transportation in East Asia from Vladivostok to Vietnam is at a standstill, and countless millions are trapped and/or dying of heart attacks. The skies darken, and a fleet of spaceships from the Planet Zarg swoop down and start nuking mankind out of existence. Then the swarms of killer bees arrive…
All because of that scumbag Benny Tai.
When Silent Majority boss Robert Chow appeared on RTHK this morning, the interviewer good-naturedly suggested that given the group's vivid and extreme worst-case scenario for Occupy Central, it should rename itself the Outspoken Majority. Not knowing a life-saving opportunity to display a sense of humour when he saw one, Chow simply insisted the name was 'Silent'. The anti-Occupy onslaught suddenly turns into a surreal, apparently drug-induced parody of itself, and it tips from unbelievably over-serious to hilarious.
As if in recognition of the damage the United Front is doing to itself, and the credibility it is granting Occupy Central (and, more important, its cause), some of Beijing's Angry Foot-Stamping Brigade change their tone and scrap plans to visit Hong Kong to screech and shout. In terror and despair, Beijing's anti-Occupy forces unveil their last-minute secret weapon: a bit of sanity.
A bit more on the video…
The ever-so professional and believable Traffic Impact Assessment Wacko Freak-out Report commissioned by the Silent Majority came from an outfit called Axon. We can only assume they needed the money really badly.
At 2:50, there's a photo of long lines of people at an MTR station. Most are wearing black. Looks rather like July 1, 2003. Video production team joke, or oblivious photo stock selection?