During the height of the zombie-inanity that was Donald Tsang's period as Hong Kong's Chief Executive, officials decided to put a group of aging government-owned properties in the central business district to 'adaptive re-use'. Sir Bow-Tie himself thought the idea was stupid: the whole point of heritage buildings, he thought, was to be knocked down so property tycoons could make a bundle by erecting monster towers in their place. But he had the 2009-10 Policy Address to deliver, and was desperate for at least one policy. It was announced (maybe as the Central Sustainable Green Creative Hub Mega-Zone Thing or something – I forget) and quickly forgotten.
The projects are now approaching completion, starting with PMQ. It is the old Police Married Quarters on Aberdeen Street/Hollywood Road, renovated but kept largely intact, reborn as a sort of mall for 'creative' enterprises. It is still at soft-opening stage, but over half the old apartments already accommodate workshop-outlets for various arty-crafty-fashion businesses.
When I lived opposite I assumed the place was basically just a mini-housing estate for public servants. It is worth visiting just to see the layout: single-room family units sharing huge balconies along each floor, creating a basic but inevitably neighbourly environment. A vivid reminder of the difference between horizontal and vertical architecture. An exhibition on life in the two blocks in the old days features, among other things, former resident and current Chief Executive CY Leung recalling having to heat water before going to wash in the communal bathrooms.
Now it is cheap (or cheapish) space for Hong Kong's 'creative' industries. Some of the tenants are established brand names, like Smith & Norbu spectacles (sorry, 'Eyewear Collection'). There's Bamboa, where every household implement is made of bamboo. There's a cake shop Marie Antoinette would have approved of. And there's the incomprehensible Chocolate Rain, which has some sort of café-playhouse.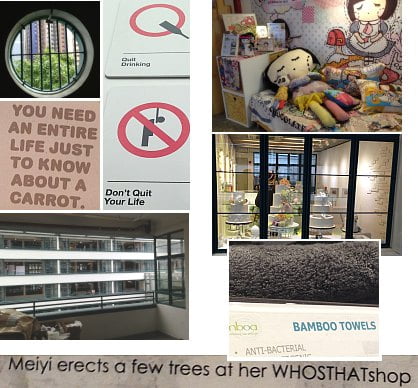 Many of the outlets are in the Chocolate Rain vein – unfathomable in that unique Hongkongers-trying-hard-to-be-creative way.  Some outlets offer jewellery, fashion, accessories and ornaments that are recognizable as such; others are just bewildering. It's probably the presentation as much as anything, like the (I think) clothing designers who describe their concept in terms of butterflies snuggling on trees. Even the official PMQ management signage is enigmatic, including directions to a sinister-sounding 'Underground Interpretation Area' (maybe someone who explains to the less-Bohemian among us what the likes of WHOSTHATshop actually do).
At the moment, the place is half-deserted. When fully launched in a few months, it might have more of a buzz, if only as word spreads of the complex as a rare escape from tourists and the overall locust-pee-pee-designer-label sector. One thing it could use is some food outlets to make the big (now partially covered) courtyard into a dining spot. They are coming apparently, but in keeping with the edgy, avant-garde ethos of the place – as guided behind the scenes by bureaucrats – they will be trendy 'artisanal' blah.
To the extent PMQ ends up interesting, it will be because it is a little space insulated from the artificially distorted ultra-high-rent environment of the rest of the urban areas. Residents of South Horizons are threatening to occupy Prada, which has opened a branch there as the local landlord turns the retail complex in their middle-class suburban neighbourhood into yet another mall for Mainland shoppers buying overpriced tat. When they track down stores that sell the stuff they need, they will be paying more in terms
of travelling time/costs, or just higher rents – all thanks to the tourism industry we are told benefits our economy so much.
Meanwhile, just a stone's throw from PMQ, one landlord is asking HK$500,000 a month for a (admittedly big) street-level shop on the corner. It used to be a Fat Angelo's cheap-and-cheerful quasi-Italian place, which was much derided by sophisticates at the time. Then along came the up-market pretentiously named 'Spuntino' exciting theme-concept thing, which tragically never quite made it into the finals for the Worst Restaurant in Soho Award. Now even that gets slaughtered on the altar of spiraling rents. The thing is – how much more pretentious/overpriced will the market bear? Whoever moves in will have to earn HK$16,600 a day just to pay the rent. Then again, how much more stupid can people who dine out in Soho get? As with landlords' demands, there seems to be no limit.