Apocalypse hits Festival Walk. A Biblically-proportioned catastrophe in the form of a plague of hailstones the size of golf balls wipes the shopping mall off the face of the Earth.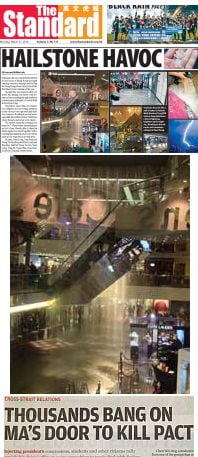 The adjacent Kowloon Tong MTR station – the conduit for endless millions of Mainland visitors – disappears with it. The sight of the Louis Vuitton outlet crumbling beneath a torrent of water and rubble as the roof caves in surely leaves us in little doubt of the Almighty's displeasure. The righteous rejoice as the sinners suffer divine vengeance.
Venerable hong Swire joined with its 'red capitalist' buddy CITIC Pacific in developing the Festival Walk site back in the 1990s. Even at that time, the plan was to use the KCR rail connection to deliver a future deluge of cross-border shoppers. CITIC Pacific sold its stake to its partners a few years later, only to see the profits obliterated by losses arising from an Australian Dollar hedging disaster. Swire escaped today's wrath by selling the whole thing to the Singapore government's Temasek sovereign wealth fund – not noted for its great timing – three years ago.
While God may be an Englishman, He smiles on Taiwan. As floods destroy Hong Kong's glittering shrines to the Mainland Mammon, Taipei enjoys perfect weather for 100,000 to 700,000 (approx) people from all backgrounds protesting the renegade non-country's proposed services trade pact with Beijing. Sympathizers also assemble in the Big Lychee and elsewhere, and among the slogans are calls for unity between Hong Kong and Taiwan in the face of the undemocratic Mainland.
It was all the way back in the 1980s that 'paramount leader' Deng Xiaoping proclaimed that Hong Kong would be an example to Taiwan of how reunion with the motherland – 'one country, two systems' – would be positive and beneficial. A stroke of genius, everyone said. Now, Hong Kong is cited as proof of the need for Taiwan to steer clear of Beijing's embrace.
If any doubts remain that forces beyond human understanding have taken control, the Standard quotes a feng-shui expert who says that hail storms covering wide areas indicate political upheavals to come: "It could be a case of people's complaints not being heard," he says. As a thousand jars of SaSa skin-whitening cream swept by the flood down the escalators from the mall to the station bob disconsolately along the submerged MTR tracks, we can only wonder at his uncanny insight.