In the old days, the media could concoct stories, like that of the woman who gave birth to rabbits. Nowadays, we want our sordid and disgusting news to be real. For some folk, it's the South African nonentity with no legs, who's accused of shooting his Barbie-lookalike girlfriend. For others, it's the American exchange student found guilty (or not) in Italy of killing her British roommate. For quite a few more, it's a blurred bit of cleavage from Kate Whats-her-name, the really-rather-ugly wife of one of bim Princess Diana's airhead sons. Human interest stories. Other people's business, sometimes lurid, often just banal, invariably of little consequence to the rest of humanity – but somehow endlessly fascinating to the world.
For avid readers of the Standard, the ultimate nastiness to gawk at is the person who sells an apartment at a loss. The worst of all shocking horrors, happening to a stranger. More nauseatingly gut-wrenching than a mutilated, entrails-erupting corpse at a traffic accident. More obscene and petrifying than the most grotesque goings-on unearthed at a 1970s Catholic orphanage. Nothing else comes close to sparking that combination of sheer terror and prurient buzz.
Today, the paper reveals the terrible but compelling cases of Mainland 'investors' Sun Hongfeng and Zhang Zhiyong, whose multiple mortgages and defaults – culminating in eventual, tragic below-cost sales – have readers gripping the pages with sheer naked fear, while transfixed by a pervy thrill. Little details like how they acquired the down-payments, how they got the cash over the border (if they did) or what they will do now are of no concern. Nor do we worry ourselves with minor questions like 'who are the idiots who lent them this money in the first place?' (As with Rong Bing, now thinking of suing Canada for not selling him a passport, it's the denial of what must surely have been his right that we can't resist, not little things like how a state-owned enterprise employee acquires the means or the desire to flee the motherland.) The very idea of someone buying a property and then selling it for less than they paid is just so unspeakably dreadful – an affront to decency and indeed to nature – we can't look away.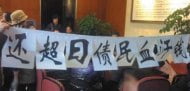 And what have we here? More investors, possibly ordinary hard-working people merely wanting to save for the future. They saw a chance to make returns of 9% a year from Chaori Solar bonds. They instinctively assumed the local authorities would pay them back if anything went wrong. It didn't occur to them that while you might be able to have a 9% return or a state-backed guarantee, you can't have both – or certainly not for ever – any more than it occurred to them to check whether the solar power industry is currently in a near-fatal glut.
A strengthening dollar and the prospect of rising interest rates, and greater future supply, all point to a little more sanity in Hong Kong's real-estate valuations. And it looks like China is finally moving on to sensible pricing of risk, and thus of debt, which points to efficient allocation of capital. Good things. Also, unutterably gruesome, gory and lascivious.