Financial Secretary John Tsang's panic-spreading task group, the Working Group on Long Term Fiscal Planning, releases its report today. The document, titled We Face Total and Utter Financial Annihilation Disaster Mayhem Calamity Right This Minute!, will be just the latest in a line of attempts to dupe us into giving the government more of our money.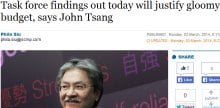 Past examples, like proposals for health-care financing reform and for a sales tax, masqueraded as consultation exercises and were wheeled out by avuncular establishment worthies like Ronald Arculli. This will take the form of a supposedly authoritative statement of future trends in revenue and expenditure, but it will probably have similar glaring omissions and rely on highly questionable assumptions. We can also expect the usual condescending propaganda: serious-sounding radio announcements inviting us to study, digest and consider (ie, believe) the stuff, and maybe a TV commercial featuring Jackie Chan.
More than ever, it seems, the public will be skeptical. Tsang himself is even acknowledging this – a rare acceptance of reality that suggests that deep beneath the surface of Planet Government, tectonic plates are shifting. It will be interesting to observe how enthusiastically Chief Executive CY Leung supports Tsang's contrived alarmism, to the extent we can detect anything behind the enigmatic wolf-like smile and cold gleam in the eyes.
One logical response to this report will be that, if its claims are true, Tsang by definition is guilty of extreme maladministration. A looming fiscal crisis will have been detectable for several years – the very same years in which the Financial Secretary squandered money right, left and centre (the HK$6,000 handout among other pointless giveaways, the HK$23 billion stadium at Kai Tak, etc, etc, etc). Indeed, he was warned about it in his own government's consultation documents on health-care financing reform and a sales tax. Didn't he read them? We can reasonably accuse Tsang himself of causing the approaching deficits.
Or we can just call him a liar. As countless commentators have been arguing, all you need to do is stop wasting money on stupid infrastructure projects, replace land premiums with recurrent real-estate taxes, freeze civil servants' salaries/pensions for 200 years to bring them in line with the private sector, and bingo – you can afford all the health-care and welfare spending you need, provided you don't do anything stupid like introduce universal entitlements. In other words, allocate the people's wealth to the people, not to tycoons and bureaucrats, dummy.
If you want to convince people, it helps to have a single, clear message. Instead, Chief Secretary Carrie Lam chooses today to publish a more touchy-feely version of Justice Secretary Rimsky Yuen's recent plea to keep proposals for constitutional reform within the boundaries supposedly required by the Basic Law. This is a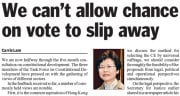 good example of the administration's inability to grasp elementary communication skills. A more professional spin-service would at least plan a way to roll out John's Tax BS separately from Carrie's Elections BS. Instead, different bits of government are competing for our ever-so undivided attention.
While Rimsky resorted to legal jargon, Carrie appeals to our reasonableness in asking us to accept a small-circle, rigged Nomination Committee to put Chief Executive candidates on the ballot. See the matronly wringing of hands as she says, in essence, people shouldn't object to what they call 'screening' because they aren't defining what they mean by 'screening'.
As such desperate quasi-arguments make clear, the consultation on political reform is a mask. The original promise was that Beijing would allow post-1997 Hong Kong to decide its own political system; the truth is that the Communist Party must have a way to control the outcome of an election, because that's what 'one-party state' means. The Rimsky-Carrie Elections BS campaign is designed to fit reform within that reality without admitting it (this ridiculous and tedious pretense being necessary because, apparently, one-party states lose face by admitting they are one-party states).
What reality is the John Tsang Tax BS campaign designed to hide? Is it just incompetence and bureaucratic zombie-ism? Or does someone or something somewhere up there require our system to divert wealth into particular pockets, but can't admit it?