If you want to know how dire Financial Secretary John Tsang's budget speech was yesterday, read a newspaper column. Any page, any column. More than one article on the same page, in some cases. While looking at the subject from various angles, they all come to much the same conclusion: the guy is full of crap.
The examples of Tsang's awfulness jostle for space: warped priorities, incompetent forecasting, this obsessive fear of people being healthier and living longer, the insistence that already-bloated government reserves are insufficient. He lives in a world where the economy and public finances face severe threats and pressures that require the people to sacrifice wealth and prosperity. The underlying principle is that people exist to serve the economy, not the other way round. The flimsily hidden agenda is to continue to channel major revenue streams away from things that make our lives better towards bureaucratic and especially corporate interests, specifically in the property/construction sphere – half a dozen particular families being inordinate beneficiaries.
One glimmer of good news is that our officials are so ineffective that attempts to further entrench this quasi-feudal structure through the introduction of a sales tax or additional levies for health-care coverage repeatedly fail in the face of strong popular opposition. This is partly because the public has been getting wiser to the rottenness of the system and in particular unwilling to believe lies about government finances. But it probably also reflects the trickle-down of the selfishness and sense of entitlement displayed by the aforementioned bureaucratic and corporate interests.
Tycoons over the years have been more brazenly stuffing their pockets at everyone else's expense. Following their example, civil servants, Mercedes-owning public housing tenants, the tourism industry and employers of imported labour have become more aggressive about defending or expanding their privileges. Next thing, everyone is demanding something at somebody else's expense.
We used to have a system that allocated resources in a way most people agreed they could live with. It was a fairly dog-eat-dog sort of system, with a dash of socialism to take the edges off, but it was widely accepted as basically fair (even if it wasn't). That's all gone. You want a home or a shorter waiting list for hospital treatment? The wealth required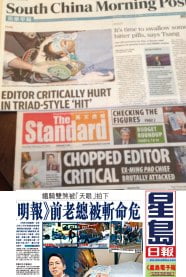 for these things was used to build a giant bridge to Zhuhai that no-one will use. It ended up in someone else's pockets. You should've grabbed it first. Now tourism interests demanding another 50 million Mainlanders a year walk off with the rest. You wanted better schools? Tough luck.
This is where the shallow and uninquiring mindset underlying John Tsang's budgets, and our governance in general, ultimately points – to the degradation of any community ethos.
On which subject, the lead story in most newspapers is not the inanity of the Financial Secretary, but the attack on former Ming Pao editor Kevin Lau. This sort of vicious paid-for chopping is usually the result of something personal – a face-losing slight suffered by some insecure malignance with nasty friends of friends, for example. But in today's climate of Beijing paranoia and pressure on the media, people are ready to believe anything. That in itself is scary.
Whichever way this whole steadily growing pile of mess ends up, this mid-2010s Hong Kong zeitgeist is going to make a great setting for a novel or movie one day.
Finally: 'Locust'-in-headlines-gate enters day three, with the editors of the South China Morning Post putting the journalistic dwarfs at the grotty Standard in their place with a just-mildly-snotty open letter on responsibility and some pointed advice  to "review their policies towards racial epithets and hate speech."