I recently met a teenager who had spent a week helping out at an orphanage in Cambodia. It all sounded very public-spirited and selfless, until it turned out that the trip was essentially tailor-made for mention in college admission applications, as evidence of eye-catching extracurricular activity, noble commitment to humanity and maturity of character. At least his parents weren't arranging for him to cheat and plagiarize in exams and essays. (Or maybe they were.)
When I was a kid, we were dumped in a sandpit until age 5 or 6, then sent to a place where nuns with sticks forced us to learn the Three Rs. With well-paid semi-skilled jobs easy to get, only a fairly small minority of high-school graduates went to college; those of us who did simply had to bullshit our way through an interview focused almost entirely on our intended field of study. If you had asked the universities if they wanted diverse, well-rounded, vibrant student bodies, they would probably have looked puzzled and said 'Not really'. Nowadays, it's Compete and Succeed Non-stop, starting at age 3 – or die.
Except in Asia, where you're a failure if tutoring hasn't begin by age 18 months, and the pressure only gets higher and higher from then on. Not everyone can handle it, so what do they do? Of course, they cheat.
A recent CNN report quotes an American college admissions officer who throws out a quarter of Thai applications for suspected dishonesty. It mentions elite, middle-class families in emerging markets who use consultants and fixers to – essentially – lie candidates' way into the fancy brand-name institution of their dreams.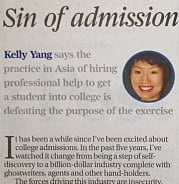 A South China Morning Post column today covers the same ground. It mentions 70% of Chinese applicants getting someone else to write their admissions essays. The materials candidates submit to colleges are becoming so unreliable that independent audit-type agencies are stepping in to verify students' credentials.
And at this moment, who comes along but our old friend Gerald Chow.
Back in 2012, Hong Kong was briefly riveted by a story on How to Spend US$2 million and Still Not Get Your Kids Into Harvard. The scion of the Chow Sang Sang family was suing American educational consultants IvyAdmit for taking a painfully large amount of money but not delivering on the Ivy League admissions promised for his two kids. As part of the evidence, Chow submitted invoices from tutors/fixers, which showed that he himself had also received 'allegedly improper academic assistance' when doing a degree of his own. What most raised eyebrows was his openness about paying others to read and write for his assignments on his behalf, which suggested that he saw it as a perfectly normal and acceptable means of study.
(This is where the sandpit helped – no-one to do things for you there.)
The latest news is that Chow is now trying to get this part of the evidence excluded from the lawsuit. The reasons are in a motion (in limine, no less) from a couple
of weeks ago. His lawyers argue that the material is irrelevant. If they left it at that, and acted all cool and confident, I could sort of imagine the judge agreeing. But they go further. They claim the evidence presents a danger of jury bias via an impression that Chow received "an advantage not available to other, less affluent, students." They similarly fret about possible "resentment based on a perception that their children have taken slots in US schools that might have been available to American citizens."
In short, they seem to be concerned that the 'allegedly improper academic assistance' Chow Senior received when doing his own degree could discredit him, and thus damage or detract from the charge that he was cheated by the consultants providing similar assistance to his children (who presumably could also be discredited, but have to live with it). (IvyAdmit, for its part, seems to be trying to smear Chow by smearing itself as a purveyor of degree-cheating services. Hey – there's two million bucks at stake.)
As well as insisting that the evidence is irrelevant and prejudicial, Chow's lawyers labour at length to establish that the services of consultants like IvyAdmit are perfectly above-board; his degree course was aimed at students with English as a second language (help with editing was recommended), and as a qualified dentist with a fine career behind him, he surely had zero incentive to cheat. Anyway, the lawyers argue, even if this motion fails and the jury do find out about IvyAdmit's assistance to him, "…his conduct would not evince that it is Dr Chow's character to be untruthful."
So there. Maybe the judge will sympathize with such a heart-rending tale. The trial itself is still to come, so the ultimate, intriguing question remains to be answered: did the purveyors of 'allegedly improper academic assistance' cheat the buyer? Remember (one of life's hard lessons), only one side can be officially, legally declared as slimy scum.