According to Godwin's Law, the longer an online debate goes on, the higher the chances that someone will make a comparison to Hitler and the Nazis. You can probably liken the regimes of Stalin or Mao to the Third Reich in terms of the magnitude of death; otherwise the simile is invariably inapt. If anything, it is a sign of rhetorical desperation.
During the disastrous public consultation over the hyper-sensitive Article 23 security law in late 2002, Hong Kong Security Secretary Regina Ip attributed Hitler's rise in Germany to democratic election. It was an early hint that she was losing the argument. Now she finds herself once again engaged in a clash of ideas that has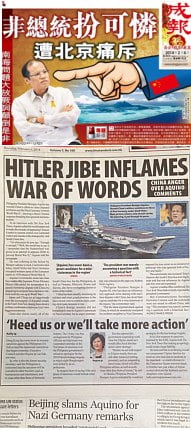 reached the stage of accusations about Hitler.
The 2010 Manila bus shooting tragedy, in which eight Hong Kong tourists died, should be history by now. Instead, a few unscrupulous pro-democracy legislators have exploited the survivors' suffering in order to promote themselves. They have shamed a weak administration into adopting a crude populist stance of demanding an official apology and compensation from the Philippines. This could only happen with Beijing's blessing: the Big Lychee's threats of sanctions tie in neatly with China's policy of bullying the Philippines and of nurturing nationalism in Hong Kong.
So far, so silly and pretentious. The sight of Regina Ip (and other lawmakers) proposing grand-sounding ways for Hong Kong to punish the Philippines would be faintly amusing were it not obnoxious. She almost seems to enjoy the prospect of harming Filipino men and women working here in finance and performing arts (though not those doing our domestic chores). Obviously, we won't stoop to hinting about fascistic tendencies, but you do wonder whether as a small child she used to pull the legs off insects.
Now we are getting into deeper waters. China's claims to own the whole South China Sea haven't, as the international community has long quietly hoped, gone away. Instead, China is ratcheting up its presence and the firmness of its claims. (It is quite possible that the Chinese military is making the running, and the civilian leaders in Beijing are being forced into an increasingly aggressive posture.) President Benigno Aquino's allusion to Hitler, the Sudetenland and pre-World War II appeasement might not be sound history, but it's certainly grabbing attention (and in Beijing's favourite newspaper, the New York Times).
British Prime Minister Neville Chamberlain had to let Germany annex bits of Czechoslovakia in 1938 because the UK needed time to re-arm. The US already outguns the rest of the planet put together. It refrains from openly refuting China's basically ludicrous territorial claims for understandable reasons: Beijing can't seriously insist on owning an entire stretch of ocean; they wouldn't be crazy enough to use violence; there's too much trade and investment and general prosperity at stake. Right?
Now Hong Kong is being roped in. Fingers crossed, Beijing will be sensible and/or rein in rogue military elements. But if things get worse, we could see trans-Pacific or intra-Asian trade disruptions or other forms of non-military international conflict. And where once Hong Kong could have plausibly been neutral and standing to one side, it would be heavily partial and involved, and its interests damaged – no thanks to a bunch of childish lawmakers pandering to shallow public instincts for a few minutes on TV.