I would have ignored this, except someone's grabbing my tax dollars, via the Food and Health Bureau's Health and Medical Research Fund: Chinese University researchers say acupuncture can help elderly people with cognitive impairment.
I'm sure it can. Whenever I run into the blank wall of cognitive impairment myself, I always find a cold shower, or just a pinch on the upper arm, does wonders; why shouldn't a slight jab with a pin do the trick?
Of course, that's what not the Chinese U people mean. They are using public funds allocated by politically correct officials in an attempt to prove that acupuncture, applied by officially certified Traditional Chinese Medicine practitioners, actually works.
I could have saved them the money and assured them that it is, indeed, effective.
But there's a snag. 'Sham acupuncture' performed by genuine, honest charlatans or researchers using scientific testing methods works just as well. ('Sham' techniques include applying needles to the 'wrong' location on the body, or making patients think needles are being applied when they're not.) What's working is the placebo

effect. This occurs in science-based medicine too, which is why real, qualified, MD-type ('Western') doctors have been known to hand out harmless, inert pills as part of their own rituals to make troublesome patients feel better and go away. (All you could ever want to know here.)
As it says here:
…acupuncture's origin is that of a healing ritual within a belief system. As such, it is not science … it is not the actual implantation of needles that makes people feel better … People feel better because of the attention, the care, the relaxing atmosphere … Practitioners thrive on the personal anecdotes of happy patients.
And don't we know it? Even intelligent, educated people who have experienced, or at least perceived, relief following consultation with some sort of voodoo-witchdoctor 'alternative medicine' quack, seem happy to attribute the result to supernatural forces. (At least their paranormal healers use the placebo effect and not the nocebo.)
Rational explanations are presumably not acceptable to Chinese U's peddlers of mysticism, with their serious-looking charts showing meridians and flows of qi, and their desire for government research grants. They want to masquerade as technical, empirical Nobel Prize types with letters after their name, so they regale us with details of sticking their needles in scientific-sounding points on the torso called 'GV20 (Baihui), GB20 (Fengchi), EX-HN1 (Sishenchong) and KI3 (Taixi)'. ('Retention of dampness and phlegm in the middle energizer', 'hyperactivity of liver yang', etc – this is medieval.)
Note that they claim to be tackling mild cognitive impairment. No doubt this disorder can, as they mention, lead to dementia (which must start off as something less bad). Moving further back down the spectrum, it must also merge with momentary lapses of the 'where did I leave my keys?' variety, and I just bet the whole condition is impossible to measure objectively or accurately.
The methodology of this research seems to have involved a grand sample of seven 65-79-year-olds receiving 24 sessions over eight weeks. That's three get-togethers a week with those nice young people from Shatin, who were so bubbly and cheerful (and delighted someone was taking their 'Chinese Medicine' diplomas seriously), handing out cookies and cups of tea. I'm sure two months of that would make any old biddy feel better. Or younger ones. Why, for two pins (haha) I'd sign up for phase two of the 'pilot clinical project' myself. I'd least I'd get a cup of tea for my tax dollars.
Use acupuncture on chickens to eradicate H7N9, and I'll be impressed.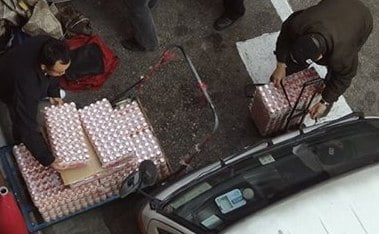 On the subject of cognitive impairment, Commerce and Economic Development Lunatic Greg So and other insentient promoters of the giant blood-sucking tourism monster may like to consult a couple of links kindly donated yesterday: Alice Poon's prescient warning, and all the mind-boggling locust-smuggler Yakult-mayhem-frenzy action you could ever want, coming to you live from Sheung Shui.