Why did Hong Kong Chief Executive CY Leung keep John Tsang on as Financial Secretary after taking office in mid-2012? We can't rule out the possibility that as a man with no friends CY lacked an alternative; nor that prospective candidates had the good sense to turn the job down when asked. Many believe that Beijing, with its usual flair for picking talent to lead the Big Lychee, demanded continuity. What we do know is that the career civil-servant generalist remains stuck in a colonial time-warp, in which the population of the city are uninvited guests tolerated as labour but who must not imagine that government is concerned with them in any way.
So we are now getting the same old pre-budget gibberish about how the government is going to run out of money because of the aging population blah blah blah.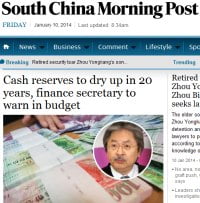 His arguments were anticipated and shredded a week ago here. The government consistently sucks in more revenue than it knows what to do with and, even after blowing much of it on pointless giant infrastructure projects and civil servants' bloated pensions, is sitting on some HK$650,000 in accumulated savings per household while reducing welfare expenditure as a percentage of total spending.
That's your 650 grand, not his or CY's. Oh, to hear the pro-democrats use their high-profile platforms to shout this loud and clear in the coming weeks. Sadly, they have slipped into a parallel universe where a Communist one-party state will, if asked repeatedly, allow ordinary citizens to nominate whoever they want as candidates in elections. Even so, the rest of the community seems to have had enough of John Tsang's bleating. Ever since giving each and every one of us HK$6,000, and in return receiving insults for not giving it to those who most needed and deserved it, he has had little credibility left to lose.
In fairness (not feeling myself today) people like him and Chief Secretary Carrie Lam are at least hanging in there, no doubt sincere in their delusions that they are 'serving the community'. That's more than can be said for the next generation of Administrative Officers, many of whom have fled the constant torment of lawmakers, media and political appointees for cozy sinecures in chambers of commerce, public-friendly commissions and charities.
If the elderly genuinely threaten to become such a high-maintenance part of our populace that they will somehow manage to gorge themselves on a trillion bucks of reserves and demand more, there is a simple precaution John can take now: freeze civil servants' pay for many, many years until it gets within (say) 20% of private-sector employees'. That would, over the decades, free up several hundred million more to keep the greedy, grasping grey-hairs happy.
On the subject of waste, today's South China Morning Post came with a) a glossy wrap-around pushing luxury apartments in London; b) a 78-page glossy 'Voice of avant-garde Asia' called Style, containing pictures of grotesque people in outlandish clothes; and c) a 122-page glossy pile of drivel called Audi, containing pictures of ugly cars and even uglier people and (God, how original) tacky watches – all of which naturally gets heaved straight into the trash, as just about everyone involved in producing the stuff knew it would. I declare the weekend open with the thought that it's not only government that pours wealth down the toilet.