If I had ever heard of something called 'Project Phoenix', it faded from my mind pretty quickly. One synapse tucked deep inside a dark cranial recess thinks it might have encountered it briefly a few years back, but isn't sure. It sounds like some worthy do-gooders' plan to take violent and destructive social deviants off the streets and turn them into honest and useful members of the community. It turns out that it is to some extent the other way round – taking something trivial and harmless and turning it into a burden on us all.
It has come to light following the arrest of a bunch of people with names like Darko and Bamnjo who were running up and down a field kicking a ball. Their alleged crime was taking bribes in exchange for not running and kicking properly. This was to enable mysterious or just merely Mainland figures to place winning bets on the outcome of a soccer match. Apparently, there are some people out there who haven't heard that professional sport is not only tedious but corrupt, and this is a huge shock to them.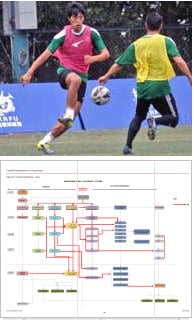 All of which would be an immense yawn were it not for the mutterings about Project Phoenix. Some years ago, it seems the government noticed that the act of running up and down a field kicking a ball was something few citizens thought about, let alone actually did. Rather than accept this as one of those things, and move onto fixing air pollution or poverty or something, the bureaucrats decided to Take Action. They got some helpful consultants to declare in a humungous report that running up and down a field kicking a ball affected the 'mood' and 'productivity' of a nation, not to mention the 'cohesiveness of communities' and 'prosperity of society' (that's just in para 1 of the Executive Summary – before you get to 137 pages of flow charts and vision statements). Without even realizing it, Hong Kong was committed and condemned to 'football development'.
What this means is that you and I hand over HK$20 million a year (plus more in non-Project Phoenix funds, it seems to say here), and in return… Well, hard to say what we get in return. Something called the Hong Kong Football Association wants to 'increase the strength' of running up and down fields kicking balls, and apparently would like HK$100 million a year, which would also help make itself – the Association – into a 'world-class national sports association', which is something I'm sure we all agree is really really soooo important. (The quotes and figures here are courtesy of the SCMP article, which I'm assuming is dependable and accurate.) The Association had a British boss called McKie, who didn't last long, and now has another called Sutcliffe, which all sounds curiously 'West Kowloon Cultural Hub' to me.
The HK$20 million Project Phoenix handout isn't half the story. The Leisure and Cultural Services Department shovel additional 'subventions' into this inane sub-culture, and the civil servants at the Home Affairs Bureau have a thing called the Football Task Force to feed and groom and take for walks. And now, the Independent Commission Against Corruption is sparing no expense chaining up and interrogating Darko and Bamnjo into the early hours about the Great Happy Valley vs Tuen Mun Match-Fixing Massacre Scandal Horror of 2014.
All the interfering, busybody, money-frittering bureaucrats had to do, those five or whatever years ago, was look away from the people running up and down a field kicking a ball, and forget they had ever seen anything.